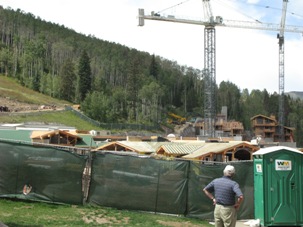 Tourists may be a bit befuddled by the proliferation of construction cranes in Vail, but no one should lose sight of the town's need to keep not only workers, but middle-class families, in town.
David O. Williams
Blog Tools
Comments
PermaLink
Bringing real locals back into Vail
Vail Town Council debate should focus on middle-class families
By David O. Williams
October 6, 2007 — My wife and I in July did something almost no one in the Vail Valley does these days: we moved back to Vail.


It's considered a fairly radical move in town where median home prices over the past decade have soared far out of the reach of most working-class locals.


But Kristin and I met in the early 90s while we were both living and working in Vail, and it's been a longstanding dream of ours to somehow make it back to town.


Needless to say, this move raised some eyebrows amongst our friends and family, eliciting reactions ranging from, "Who will your kids play with in that gated Disneyland?" to "You could buy a brand-new house that's twice the size in Eagle for that kind of money."


The simple answer to both of those statements is, "You'd be surprised how many kids there are in Vail still," and "If we're going to go through all the hassles of living in a ski town, we want to actually live in a ski town."


No knock on Eagle, which is a fine old ranching town now inhabited by everyone who used to live in Vail and therefore undergoing a renaissance that includes great recreational facilities, a huge network of mountain biking trails and awesome access to the national forest. Starbucks even opened up there in recent weeks.


But it doesn't have Vail Mountain.

My mantra since moving out of Vail in 1995 and spending nearly a decade living in Edwards (halfway between Vail and Eagle) has always been that I would never move any farther west. At least in Edwards (Singletree to be precise) we could see the ski slopes of Arrowhead.


And there's nothing wrong with Singletree. It's a great neighborhood, with a really good golf course (Sonnenalp) and a burgeoning "town" nearby where a lot of real locals have chosen to relocate. But Singletree is mountain suburbia, and Kristin and I are definitely not suburbanites.


Our new "old" West Vail neighborhood, where just down the hill is the first place I ever lived in the valley, actually feels a lot more like a neighborhood than where we were in Singletree. There are young families around, working-class resort employees in the nearby condo complexes, and longtime Vail locals – all of us still clinging to the dream.


A friend from Avon recently referred to Vail, which, depending on whose stats you go with is made up of from anywhere between 70 and 80 percent second homeowners, as "that up-valley, so-called used to be a town."


I found that amusing since Vail recently passes aggressive new mandatory regulations requiring developers to provide a certain percentage of their project in the form of employee housing and designed to house at least 30 percent of Vail's workforce in town, while Avon has been hemming and hawing over purely advisory regulations that would have no real teeth.


With a new gondola slated to connect Avon to Beaver Creek this season, how long will it be before Avon is in the same second homeowner boat as Vail? Really, the entire county needs to get serious about workforce housing, but it shouldn't stop there.


In Vail, there's quite a bit of talk about steps to help middle-class families - the young professionals who make a place tick – get back into Vail. Candidates who seriously talk about such steps will get my vote in the coming Vail Town Council election, even though my wife and I found a way to do it on our own.


Not just because I want more kids in my neighborhood, but because young families give a place life, they fill the restaurants in the off-season when tourists are nowhere to be found, they shop in local stores, hang out at local parks, attend local schools, go to movie theaters and bowling alleys, and generally give a place a sense of life that visitors find invaluable.


Yes, Vail's unbridled redevelopment will dominate the debate during this election (Vail's new town bird is the construction crane), but those projects are either under way or coming down the pipe anyway. The key is to get them to fund a local renaissance by building workforce housing, making middle-class housing attainable through creative deed restrictions and adding world-class recreational facilities that both locals and tourists alike will utilize.


As of Friday morning, Oct. 5, 10 Vail Town Council candidates had turned in petitions to run for the five open seats on Nov. 6. Two incumbents, Lifthouse Condominiums manager Kevin Foley and Tivoli Lodge reservations director Kim Newbury, are running again, but Mayor Rod Slifer and council member Greg Moffet are term limited and therefore unable to run again. The fifth seat is being vacated by Kent Logan, who will not run for a second term.


The other hopefuls for the five seats include: former Vail Resorts president Andy Daly; developer Dave Irwin; Millennium Bank's Scott Proper; former council member and District Attorney's Office investigator Dick Cleveland; Colorado Ski and Snowboard Museum executive director and former ski company executive Susie Tjossem; retired Chicago attorney Margaret Rogers; bar manager Bob McKown; and Stephen Connolly, owner of his own marketing firm.


A couple of more petitions may have trickled in by 5 p.m., and I'll update those and talk more about the candidates in a coming blog. Also, mark your calendar for the Thursday, Oct. 18 Vail Chamber and Business Association town council debate at Donovan Pavilion (see the ad below or go to www.vailchamber.org for more details.


Comment on "Bringing real locals back into Vail" using the form below