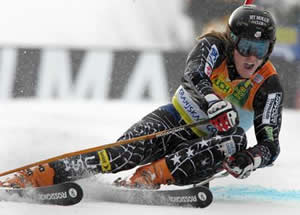 American Ted Ligety was the star of the show Sunday at Beaver Creek, missing his first win on the Birds of Prey World Cup course by one-hundredt of a second.
Courtesy of the U.S. Ski Team
Blog Tools
Comments
PermaLink
My Birds of Prey predictions came up just short, but now I'm calling for a powder day at Vail
By David O. Williams
December 8, 2008 — I missed out on my Beaver Creek Birds of Prey World Cup predictions by the same slim margin Benny Raich edged Ted Ligety in the giant slalom (GS) on Sunday. Ligety lost out by one-hundredth of a second. I lost out by two seconds and a DNF.

Scroll down for my original picks and you'll see that I chickened out in the super-combined, which was cancelled anyway due to a snowstorm on Thursday, but then picked Bode Miller to win the downhill, Hermann Maier the super-G and Ligety the GS.

Miller was leading the downhill when he crashed on Friday, so I would have nailed that one if he had finished (but then you can say that about all of Bode's races); Maier was second to downhill winner Aksel Lund Svindal in the super-G Saturday (although it wasn't really close); and then Ligety looked like he had the GS before losing a ton of time on the bottom and just missing out.

So if close counts for anything, I was there. Now let's hope I come a little closer in calling the weather. Some forecasters are calling for 4-8 inches overnight in the Vail Valley. Others are calling for less, and some say we'll get more. My call? I saw we get 6 inches in Vail and 4 at the Beav. Both worthy of calling in sick from work.

Regardless, we're in pretty good shape for this early in the season, and the big crowds over the weekend at Vail and Beaver Creek seemed to know that. I got out for Day 4 on Saturday and made some very nice turns in Game Creek and on the Front Side of Vail Mountain. Our time was too limited to jump into the newly opened Back Bowls, where the wait was 45 minutes on Chair 5.

Though I got deathly ill over the weekend, likely contracting some sort of foreign bug from a Euro journalist here for the World Cup, it was, as always, a great time. A little more American success would have been nice, and it would be nice if Red Tail could be opened to enable race fans to ski to the finish area. But overall, another great show by the Vail Valley Foundation and Vail Resorts.

Final note, as I write this at about 2 p.m. Monday (mountain time), it has just started snowing pretty hard in West Vail. Looking like a pow day Tuesday.


Comment on "My Birds of Prey predictions came up just short, but now I'm calling for a powder day at Vail" using the form below