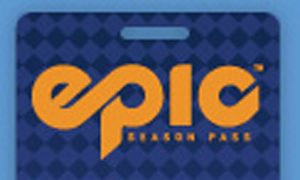 Blog Tools
Comments
PermaLink
Winning the Front Range riff-raffle: Vail cleans up on Epic Passes
By David O. Williams
December 11, 2008 — The hue and cry over the unwashed rabble likely to snap up cheap ski passes and invade Vail this winter, clogging our roads and jamming our ski slopes and parking garages, has morphed into the "All the Love" ad campaign as quickly as you can say "economic downturn."

And Vail Resorts, which bore the brunt of the controversy after the announcement of its unlimited, six-mountain, $579 Epic Pass last spring, revealed Tuesday it sold nearly 60,000 of the season passes, prompting accolades from some analysts who foresee a brutal year for the ski and tourism industries.

"Front Range riff-raff" comments from a former Vail business leader and concerns about parking on the part of some town officials seem like distance echoes from a different era – even though the debate occurred just seven short months ago.

And I have to admit, I was one of those saying perhaps it was time to drop the cheap passes and go back to the $1,500 rates we saw in the 80s and early 90s. People would pay a premium in order to enjoy close-in parking and uncrowded slopes, I reasoned. In retrospect, I could not have been more na´ve. And anticipating the bursting bubble was a stroke of inside Wall Street genius.

In a conference call with investment analysts Tuesday, CEO Rob Katz said the company reaped about $32 million from the sale of just over 59,000 Epic Passes – good at Arapahoe Basin, Beaver Creek, Breckenridge, Heavenly (Calif.), Keystone and Vail ski areas.

Overall, Vail Resorts took in nearly $91 million from the sale of about 204,000 of all of its season pass products, including the discounted Colorado Pass. And there has been almost no discussion of parking problems, traffic woes or Front Range customers who tend to spend less than out-of-state destination visitors.

In fact, the town of Vail and the ski company partnered with the local lodging and retail sector to launch a $550,000 supplemental marketing campaign called "Vail All the Love" to target drive-market and Front Range guests with direct-mail pieces touting deep discounts on hotel rooms, meals and shopping. Still, despite better-than-average early-season snow, advance lodging reservations are off by about 23 percent, Katz said.

One silver lining? There may be a shortage of paying customers this season, but the recession is providing a much larger domestic labor pool. Concerns over the lack of H2B (skilled worker) visas used by many resorts to bring in foreign workers have evaporated, as suddenly Chicago, Kansas City and Dallas are as fertile of recruiting grounds as Sydney, Buenos Aires and Prague.

Someday maybe we'll be able to have both: plenty of workers and plenty of customers. But don't count on it. The only thing anyone can ever count on for a truly successful ski season is plenty of powder. So far, so good. Let's hope for more.





Comment on "Winning the Front Range riff-raffle: Vail cleans up on Epic Passes" using the form below