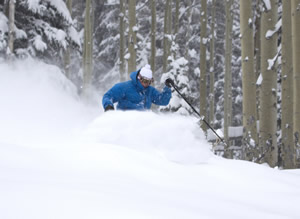 Mid-winter conditions greeted skiers at Beaver Creek over the weekend, and more is on the way.
Courtesy of Vail Resorts
Blog Tools
Comments
PermaLink
Nearly 2 feet of new snow over the weekend at Vail, Beaver Creek
And another massive storm is headed our way
By David O. Williams
December 15, 2008 — What a weekend in the Vail Valley. We went from a decent early-season snowpack that was a bit scratchy in places on Friday to full-on mid-winter conditions by Sunday.

The snow started sifting down lightly Friday evening, and by Saturday morning a respectable 6 inches had fallen. I managed to sample the product Saturday, immediately noticing a slightly crunchy and sun-baked base under that light and fluffy half a foot.

But that was just on Headwall in Sun Up Bowl. By the time my group got into newly opened Tea Cup Bowl, conditions were getting progressively softer. And Blue Sky Basin, which opened for the season on Saturday and faces mostly to the north, was spectacular.

Because it was unskied so far this season and protected in the trees on north-facing aspects, the snow was easily a foot deep in places -- light, dry and very manageable. But that was all Saturday during the day.

Overnight Saturday it dumped another foot at Vail and 14 inches at Beaver Creek. I couldn't get out into it Sunday but imagine I'll hear all about it from friends today and tomorrow. That's OK, because by Tuesday another 15 to 22 inches is expected, and I won't miss that mid-week treat if it materializes.

Another 4 inches fell Sunday morning for a total of 22 inches as of Friday evening, and so far this season Vail has had 93 inches of snow.

We could be on track for another epic season like 2007-08, the third snowiest in the history of Vail. The jet stream certainly seems to be set up for it thus far, with forecasters calling for another storm on Thursday and yet another one on Saturday.

Holiday skiers at this point are guaranteed very good conditions with most if not all of the mountain open, and if the storm cycle continues, it could be crazy good up there Christmas through New Year's.

I rode the lift Saturday with a woman from England who said she and her family purchased Epic Passes because they planned to come out for a minimum of two weeks in December and again in the spring if possible. Season pass holders from England … incredible.

Just a couple of weeks ago when the snow started really falling (around Thanksgiving) for the first time this season, they started shopping for deals and found an affordable package with a direct flight to Denver on British Airways and lodging in West Vail.

Needless to say, with the snow what it was over the weekend, she was clearly quite pleased with her pass purchase decision. Right now, the Colorado Rockies have just about the snow conditions in the world, including continental Europe. Wise choice.


Comment on "Nearly 2 feet of new snow over the weekend at Vail, Beaver Creek" using the form below