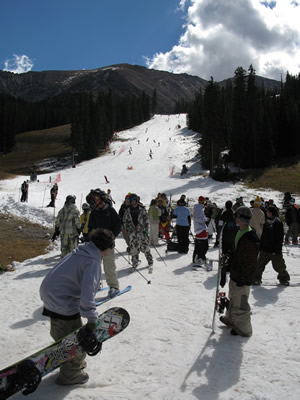 High Noon run at Arapahoe Basin served up 800 vertical feet of mostly manmade snow on opening day Wednesday, Oct. 10.
David O. Williams
Blog Tools
Comments
PermaLink
Spring skiing in the fall
A-Basin kicks off 2007-08 season
By David O. Williams
October 10, 2007 — ARAPAHOE BASIN, Colo. – Day 1.


My 2007-08 ski season began much the way it ended last May: I dropped off my middle son, Max, who was wearing shorts, at daycare after first answering his barrage of questions about why I was wearing ski clothes and why he was partially buried under all my ski gear in the back seat.


He seemed only marginally satisfied with my answer, which was that I was skiing at an unusual time of year (in this case only 20 days into fall) because I could - because the lifts had started running and there was some type of slushy substance resembling snow stuck to the side of Arapahoe Basin, where I ended my 2006-07 season only about 150 days ago in early May.


But at four years of age, Max is only marginally satisfied with a great many things in life, and I could almost see the thought forming in his mind: why did I get to ski while he had to go to school? I hurried him in the door and got back on the road.


There is something magical about Opening Day. Not baseball magical, with the sights and smells of spring in the air, but skiing magical, with a long winter and lots of powder days looming on the gray horizon. Only it was spring skiing in October at the Basin Wednesday, with sunny skies and temps topping out in the low 60s, even at 12,000 feet.


When I arrived at 10:30 a.m., a mob of snowboarders was already hanging out on the Basin's legendary Beach (essentially where the parking lot meets the mountain), grilling burgers, shooting off firecrackers and drinking Bud longnecks. Definitely more of a Fourth of July vibe, which is another unlikely date I once skied the Basin.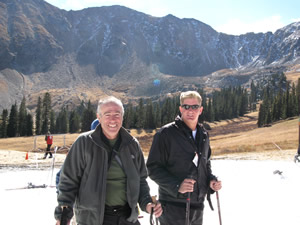 Marty Killory, left, and Chris Cain, both combat veterans, atop the Exhibition chair at A-Basin on Wednesday.

A pretty sizeable crowd was jockeying to get on the Exhibition triple lift for the chance at a minute and a half of glory on the 800 vertical feet of the High Noon run covered by about 18 inches of mostly manmade slush. The lift lines were about 15 minutes long.


I got on my first chair of the season with two other singles - Chris Cain of Littleton, a U.S. Marine just back from Iraq, and Marty Killory of Frisco, a retired Vietnam vet, among many other past occupations.


"Some of my buddies are still over there (in Iraq) so I figured I'd better be able to write an email and gloat and say, 'Hey, I went skiing today," said Cain, who noted that despite the 62-degree temps at the Basin it was still 60 degrees cooler than Baghdad. "It's great to be out. I figured I was going to miss the first rifle elk season so I might as well do something today."


Cain said his four runs to that point had been "pretty wet," but as a lifelong skier he wasn't complaining about being able to ski a full three weeks before Halloween.


"I saw the Summit (County) paper and read there was going to be an 18-inch base on the white line of death, so instead of going swimming I took my mountain bike to my storage unit and picked up my skis …," said Killory, who added he then rode to a bus stop, threw his bike and skis on the Summit Stage, rode that to the end of the line in Keystone and hitchhiked the rest of the way up to A-Basin.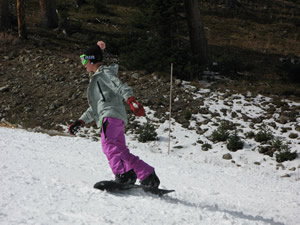 High Noon run was a decent ride Wednesday but going off piste would have been a bit dicey.

"I love to ski and I like to climb, so I guess you can say it was just a whim and the novelty of it and just doing something different for a day," Killory said. "But this is my third run and, surprisingly, I'm getting my ski legs right back."


I proceeded to ski three quick and relatively uncrowded runs (A- Basin officials were expecting about 1,500 "snow" riders Wednesday) then bailed back over Vail Pass. It was short but sweet and well worth the drive.


Wednesday marked the earliest ever opening in the 61-year history of A-Basin and won The Legend first-to-open honors in the U.S. this season.


"Being the first to open two years running, we're picking up where we left off last season, setting record skier numbers for our resort and providing the longest winter season in Colorado with 243 consecutive days of skiing and riding," A-Basin general manager and COO Alan Henceroth said.


With a storm headed our way Sunday, just in time for the Colorado Rockies first home game in the National League Championship Series, look for more resorts to come on line soon – most likely Loveland ski area, followed soon thereafter by Copper Mountain. Vail opens Nov. 16.


Comment on "Spring skiing in the fall" using the form below