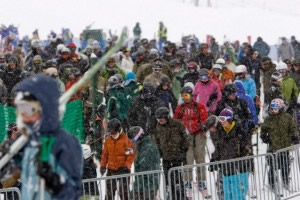 The holidays were solid throughout Colorado's ski country, as evidenced by this full maze at Crested Butte.
Courtesy of Crested Butte
Blog Tools
Comments
PermaLink
Monday powder days, surprisingly strong holidays, chase away Vail, ski country blues
By David O. Williams
January 12, 2009 — Second only to a Wednesday powder day in terms of shear, having-the-mountain-to-yourself glory, is the Monday powder day, which this one promises to be.

Forecasters sort of missed the extent of this weather maker, which was just supposed to scrape buy us and a leave a few inches. But Vail was reporting 8 new as of 5 a.m., and as of this writing (8 a.m.) it was still pounding down snow in West Vail.

That means Vail has officially passed the magical 200-inch-for-the-season mark (at 209 and counting) and is well on its way to the seasonal average of around 350 (with three very snowy months left in the season).

I got out on Saturday for Day 16 of my season and can report that the mountain was in amazingly soft shape. I can only imagine what another 10 inches or so has done to it.

And there's some fairly good news on the ski-country holiday economic front: Nero may have fiddled while Rome raged in flames, but the fur-clad folks who frequent tony winter retreats such as Vail and Aspen apparently prefer to ski while the nation plunges into the depths of economic despair.

Those who for decades complained bitterly about the ever-escalating price of a ski-lift ticket (both Vail and Aspen charge about a C note these days) never stopped to think about the relative cost compared to the other posh pursuits of the not-so-idle rich.

Skiing is a relative bargain compared to maintaining a stable of polo ponies, gassing up the Gulfstream or pointing the yacht toward Tahiti. So even in the waning days of the unregulated and mostly quite lucrative Bush administration, cruising corduroy snow and kicking the tires on a new starter castle in the mountains was still all the rage over the holidays.

Auto companies may be seeing sales decline between 30 and 50 percent, but ski areas (in Colorado at least) were only off by about 6 or 7 percent compared to the early part of last season. That's remarkable given the collective angst on the part of snow peddlers earlier this season when ski industry execs were predicting 20 to 25 percent declines in business.

And just eight short months ago, some Vail business officials and politicians were worried about being overwhelmed by skiers clamoring for the ski company's six-mountain, unrestricted season ski pass called the Epic Pass (sold for what critics claimed was an unbelievably low, low price of $579).

Vail Resorts Friday reported that through Jan. 4, which includes the critical Christmas-to-New Year's holiday period, skier visits to its five resorts (Beaver Creek, Breckenridge, Keystone and Vail in Colorado and Heavenly, Calif.) were only off by 5.8 percent compared to the very strong 2007-08 ski season.

The publicly traded company did report that total lift ticket revenue was down 7.5 percent for the same period compared to last season; bookings for its hotel properties were off 14.8 percent; and ski school was off by about 20 percent.

"As we expected, the current economic environment has certainly impacted the beginning of the 2008-09 ski season with season-to-date skier visits down year-over-year," Vail Resorts CEO Rob Katz said in a prepared statement. "However, despite the challenging environment, total skier visits were actually up over the prior year for the peak two-week holiday period ended Jan. 4."

So the season that started at most resorts in mid-November has been a bit of a bust (as expected), but holiday revelry in the high country was at an all-time high. The same, apparently, was true at other resorts.

Colorado Ski Country USA (CSCUSA), the nonprofit industry lobbying group that represents 22 of the state's ski areas (although not the four Vail Resorts mountains), reported Wednesday that its membership saw much higher numbers than originally anticipated.

CSCUSA cited record and near-record snowfall totals, cheap gas, lower airfares and a host of bargains offered to entice penny-pinching powder hounds.

"Last week, we saw stronger visits than we had anticipated," CSCUSA President and CEO Melanie Mills said in a release. "The weather trumped the economy and Colorado Ski Country USA resorts came out strong."

Most Colorado resorts were near or had already exceeded 200 inches of snow, or about 16 feet, so far this season, and in most cases that's more than half the annual average (with three of the snowiest months still to come).

Labor shortages that plagued the state's ski areas the last several years, prompting many resort operators to import workers from Europe, Australia and South America, have eased significantly, with domestic laborers now more inclined to take low-paying service-sector jobs.

In fact, some foreign workers have arrived in ski towns only to find a lack of jobs compared to the last season.

Meanwhile, mountain real estate markets continue to take a major hit, but not quite as bad in some places as might be expected.

In Eagle County, home to Vail and Beaver Creek ski areas, residential sales were off 27 percent through the end of November compared to the same period in 2007, but overall sales still managed to top $2 billion for the fifth straight year.

With only one month left to tally (final figures will be available in February), 2008 won't come close to the record of nearly $3 billion in total sales in 2007 – a mind-blowing figure given the county has a year-round population of just under 50,000 people.

Still, the average sales price for a single-family home in Eagle County in November was $1,299,753.

This is not subprime country.

Comment on "Monday powder days, surprisingly strong holidays, chase away Vail, ski country blues" using the form below