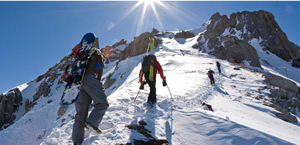 The hike-to skiing in Telluride is some of the best in the state, offering in-bounds steeps and chutes that are hard to find at other resorts outside of places like Alta, Utah.
Courtesy of Telluride Ski Resort
Blog Tools
Comments
PermaLink
Winter takes a time out after relentless pounding at Vail; sidetrip to Telluride proves inspiring
By David O. Williams
January 20, 2009 — What a difference a week makes in Colorado's high country.

Last week at this time we were skiing epic, mid-winter powder after a storm that was just supposed to provide a dusting hit us with a foot and half of new snow at Vail.

But by the Martin Luther King Day weekend it was springtime in the Rockies.

I got days 17 and 18 of my 2008-09 ski season in on Monday and Tuesday of last week, feasting on freshies in Vail's nearly deserted Back Bowls.

Then on Friday I headed to one of my favorite places on the planet (outside of Vail), Telluride ski area in the San Juan Mountains of southwestern Colorado.

The range is much newer and therefore more dramatic than the ranges closer to Denver, and Telluride takes full advantage of those Alps-like spires and buttresses.

T-Ride hadn't had any new snow in quite awhile, missing out on the bounty that fell on Vail last week, but they've still had a good season so far, and much of what I sampled on Saturday and Monday morning (days 19 and 20) was still soft and skiable.

The resort's new Revelation Bowl, rising to more than 12,600 feet in the upper reaches of the impossibly steep Bear Creek drainage, is a dramatic new addition.

And new hike-to skiing opportunities abound in Black Iron Bowl, which dumps snow riders into 1,000-vertical-foot chutes with some pitches of 40 degrees or more.

Making those big, heart-pounding jump turns as snow sloughs all around you is an experience that's hard to find outside of places like Jackson Hole or Alta, Utah. And Telluride has cornered the market on some of the most amazing terrain in the state.

It also has a surprising amount of beginner terrain if you're thinking of taking the kids. The 4.6-mile Galloping Goose run down to Mountain Village is one of the best kid's ski-school runs in the state.

Anyway, more on my quick junket down to T-Ride and all that it has to offer as I roll out some freelance stories on the place in coming weeks and months.

As for Vail, looks like the next chance for some snow comes on Friday, so in the meantime, enjoy some sun and fun on the way-above-average base and bask in the spring-like heat.

Winter will be back with a vengeance soon enough.

Comment on "Winter takes a time out after relentless pounding at Vail; sidetrip to Telluride proves inspiring" using the form below