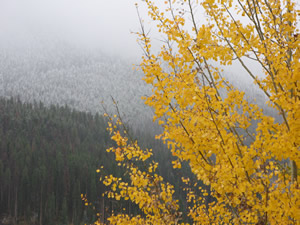 Six inches of wet snow had fallen on Vail and Beaver Creek as of noon Sunday, and the leaves have finally peaked in West Vail (pictured).
David O. Williams
Blog Tools
Comments
PermaLink
Sloppy storm dumps on Colorado ski country
By David O. Williams
October 14, 2007 — A wet fall storm slopped through town Saturday night into Sunday, Oct. 14, dropping a little over 6 inches on Vail Mountain and Beaver Creek by noon Sunday, and freaking me out about the possibility of a rainout Sunday night for Game 3 of the National League Championship Series.


My wife and I have tix to the 6:30 MST start at Coors Field, which pits the Colorado Rockies against the suddenly trash-talking Arizona Diamondbacks. The D-Backsí Eric Byrnes, a former Rockie who does ridiculous tumbles after throwing the ball in from the outfield, said the Rocks did not outplay his squad despite Colorado winning the first two in Phoenix. Huh?


Now the Kid Rocks need only two more wins in the next five games to advance to their first World Series, where until last night they looked like a lock to play the Boston Red Sox. But the Sox were pounded in extra innings, sending local Red Sox fans (and there seems to be a lot of them) into a depressed tailspin. I still think itíll be a Rox-Sox Series.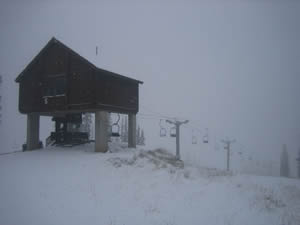 It was snowing hard atop Beaver Creek Sunday morning, with more on the way into Monday.

In the meantime, hope the weather clears enough tonight and tomorrow for the TBS (Totally Bad Station) cameras to capture all the fresh snow in the mountains and get people psyched about the coming ski season. In the past, reservation phones have rung off the hook during snowy Broncos games, and hopefully the Arapahoe Basin (only area currently open) marketing folks are shipping off tons of B-roll footage to TBS.


The Basin reported 6 new Sunday morning, and Breck and Keystone each reported more than 7 inches as of 10 a.m. Both Summit County resorts open in less than a month: Nov. 9. Look for Loveland and Copper Mountain to open in the next week or so (keep checking our snow report).


The central Colorado mountains are under a winter snow advisory until 6 p.m., Sunday, and the forecast calls for snow through Monday afternoon, with another storm predicted for the end of the week.


Snowmaking operations are set to kick off Sunday evening at Keystone, with Breckenridge firing up its guns at the end of the week. Vail opens Friday, Nov. 16, and Beaver Creek opens Wednesday, Nov. 21.


Comment on "Sloppy storm dumps on Colorado ski country" using the form below