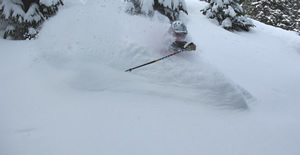 Skier Dustin Schaefer is in there somewhere -- there being Below Creek Trail at Loveland Ski Area Sunday, where more than 22 inches of new snow has fallen in the last three days. Vail's had a bunch too, and this is RealVail, but the VR PR staff didn't send us anything, and we love Loveland.
Courtesy of John Seller/Loveland Ski Area
Blog Tools
Comments
PermaLink
Wet and wild weekend gives way to classic weekday powder payoff in Vail
Ali Hasan for state treasurer in 2010: But will he stay celibate till then?
By David O. Williams
January 25, 2009 — I dropped the kids at Vail Devo on Saturday and headed up on the hill with pretty low expectations. I couldn't get out Friday, but reports I heard from Vail painted a grim picture.

The welcome return of winter was a little spring-like on Friday, with warm temps and wet snow bordering on rain at the base of the mountain. Vail was reporting 8 inches new Saturday, but I had a feeling it would be mush on crust.

Man was a I pleasantly surprised. A quick trip up Chair 6 and down Log Chute to Chair 10 revealed boot-deep and fairly soft snow. A warm-up run down the trees skier's left on Highline proved even more rewarding.

Then I hit Roger's Run in order to join up with some friends at the bottom of Chair 11. Three powdery bump runs and it wasn't even 9:30 yet.

From the top of 11 we swung way out, bypassing Headwall and Yonder because of an already jammed maze at 17 and got freshies in Tea Cup Bowl before heading up Tea Cup Express and doing lap after lap on Genghis Khan.

A dirty half dozen runs on Genghis, with big pockets of untracked on every one of them, left us spent and ready for some front-side cruisers and a late lunch at Sweet Basil, which really does have the perfect margarita (and a mighty fine shrimp and crab chili relleno).

All in all, it was an astoundingly good day after 10 days of sunshine and no snow. Friday's rain put down a frozen layer that was a bit crunchy in places, but there was so much surprisingly soft snow on top that it made for some great turns.

As I write this on Sunday afternoon, it's been snowing off an on all day (probably another 3 or 4 inches) and the forecast calls for another 5 overnight. What was I writing a couple of weeks ago about Monday powder days?

And we may be looking at pow days Tuesday and Wednesday as well, with possibly "significant accumulations" both Monday and Tuesday nights. Let's hope the temps drop a little off the 0-celcius (32 Fahrenheit) mark for some lighter and drier turns. But we'll take whatever we get.

Ali Hasan, however, won't take whatever he gets (like no for answer) when it comes to the mountain monorail. The Beaver Creek Republican who won Eagle County but lost Lake and Summit counties and therefore his really expensive bid for the state legislature, ran on a platform of promising a monorail in every pot.

That mass transit solution to I-70 weekend gridlock resonated with some voters, but clearly not enough, so Hasan now says he may do an end-around the legislative approach and run for state treasurer in 2010 -- an office where he could show the feasibility of his financial formula for mountain mass transit. He also wants to see a similar train along the I-25 corridor.

"If I run, I will put together a fiscal plan to demonstrate that we can build these with no tax increase or a small one," he told the Vail Daily Friday. "The technology is there, the only thing stopping it is the fiscal plan and that'll be up to the treasurer."

Hasan spent more than $350,000 of his family's personal fortune in his state house bid – a record – but lost to incumbent Democrat Christine Scanlan. His campaign was marked by controversy, including an embarrassing and public falling out with his former girlfriend and publicist and his vow of celibacy until Election Day.

On the topic of incendiary personalities, the FBI on Friday said one of four suspects still at large in the 1998 eco-terror arson attack on Vail Mountain may have been spotted near Vancouver, British Columbia.

FBI officials said they received a tip Rebecca Rubin was seen near Vancouver, where she reportedly has relatives, according to the Associated Press.

Eleven people associated with the radical Earth Liberation Front were indicted for a string of arsons across the West in the late 1990s that did more then $25 million in damages, including $12 million at Vail.

The ELF claimed the fires that destroyed several chairlifts and the Two Elk Lodge were set in the name of the endangered Canada lynx, which ELF claimed was threatened by Vail's Blue Sky Basin ski expansion.

One woman was convicted for the Vail fires, among other crimes, and is serving a sentence in federal prison, and another suspect committed suicide in prison. Three others remain at large and are believed to be living overseas, according to the FBI.



Comment on "Wet and wild weekend gives way to classic weekday powder payoff in Vail" using the form below