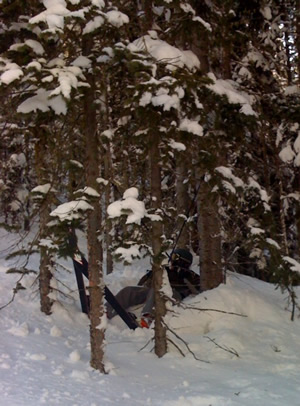 The blogger chills in the trees under Chair 10 Saturday after heading in a bit too hot and laying it down before wrapping around a lodgepole.
By John Alfond
Blog Tools
Comments
PermaLink
Still finding freshies days after the storm: how to be a tree-hugger in Vail (on skis)
By David O. Williams
February 2, 2009 — I will go to great lengths to find soft snow, and even greater lengths to find soft, untracked snow.

If you've skied with me you know I'm just as likely to be found deep in the trees between the runs as out on the run proper, even on powder days when fresh snow chokes the middle of the piste.

So after January went out with such a bang (more than 40 inches of snow in the final week) but the spigot shut off Thursday morning (Jan. 29), I was forced into the foliage by Saturday.

And there was plenty of good snow still in the dark recesses of the forests on Vail Mountain, especially north-facing trees on the front side. Out on the south-facing bowls, warm days over the weekend baked things a bit and then set up the snow with hard overnight freezes.

Don't get me wrong, there was still some very nice skiing to be had (I would not at all use the term "frozen death cookies"), but the snow in the bowls was a bit challenging in spots. All the groomers, of course, were in immaculate shape.

Which was perfect for our purposes (low-key family and friends day) on Day 25 of my season so far. Now the weatherman is saying we may be in for a somewhat sunny patch after a minor blip of a cold front ran through Sunday morning and dropped an inch or two of new snow.

If I get out much this week, it will likely be to head into the trees in search of undiscovered stashes. You can call me a tree-hugger if you want (I prefer bark-snacker), but I don't care. It's good in there.

No one's ever around, the snow stays buttery for days (if not weeks) after the last storm, and there's no better way to commune with nature than by blasting through it at a high rate of speed. And from the looks of things, there will be more room for that kind of thing in coming years.

A new U.S. Geological Survey (USGS) study paints an ominous picture of the nation's western forests, finding that the mortality rate for trees has doubled over the last several decades because of rising temperatures and dwindling water supplies tied to global warming.

Researchers from the USGS, the U.S. Forest Service (USFS) and six universities, including the University of Colorado, Boulder, examined historical data from 76 different forested areas in three regions across the West and found that mortality rates were rising across the board due to climate change.

The study was first published last month by Science magazine.

One of the study's authors, University of Colorado geography professor Thomas T. Veblen, put the findings in perspective for Colorado residents in a Washington Post article last week:

Veblen said the combination of increased wildfires, drought and bark beetles has devastated some of his state's forests. Temperatures in Colorado's sub-alpine forests, which are between 8,500 and 10,000 feet in altitude, have risen markedly over the past 50 years during all seasons, he said.

Mountain pine bark beetles have killed roughly 3.5 million acres of lodgepole pine forests in northwestern Colorado over the past decade, wiping out 90 percent of pine forests in that area, Veblen said. During the same time period, spruce bark beetles also killed large areas of spruce forest in northern and southwestern Colorado.

"Our society needs to devise policies that will help us to adapt to the changes that are under way,'" Veblen said. "This is further evidence that we're seeing continued effects of the warming in increased fire risk."

Perhaps the most frightening conclusion of the new study is that if current warming trends continue, western forests will move from absorbing carbon and removing greenhouse gases from the atmosphere to emitting more carbon dioxide than they can absorb. Yikes.

Now on to happier topics. Ever wonder what the real world thinks about Vail? Or maybe you're reading this in the real world and wonder how we feel about what the real world thinks of us. Here's an interesting take in the New York Times travel section. I'm sure how I feel about it.

Finally, here's a RealVail shout-out to Lindsey Vonn, the 24-year-old Ski Club Vail product who is back to being simply en fuego on the World Cup ski-racing circuit this season.

Vonn won two more races in Garmisch over the weekend (now five on the season) to tie Tamara McKinney for the most career wins by an American woman (18). Vonn now trails only Phil Mahre and Bode Miller for most victories by an American period.

That's truly mind-blowing for Vonn at such a young age, and RealVail and the Vail community are pulling for her big-time as she heads into this week's World Championships in Val d'Isere, France.

Vonn won two silvers at the last Worlds in Sweden in 2007, but she's yet to get a gold medal in either the Worlds or the Olympics. This feels like it could be her time.

Comment on "Still finding freshies days after the storm: how to be a tree-hugger in Vail (on skis)" using the form below