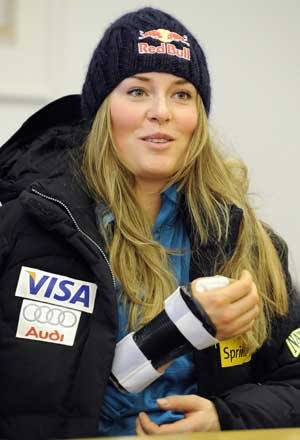 Lindsey Vonn shows off the new hand brace that kept her out of the World Championship giant slalom Thursday.
Courtesy of the U.S. Ski Team
Blog Tools
Comments
PermaLink
Vail powder day on tap, pass restrictions in place, Thumb-gate revisited, water war in Yampa
By David O. Williams
February 12, 2009 — This weekend is shaping us like good-news, bad-news type of scenario for locals with a lot of pent-up powder aggression in the wake of a fairly dry two-week period here in the Vail Valley.

The good news is we're supposed to get 4-to-8 inches overnight tonight (Thursday) and another 2-to-4 during the morning Friday. The bad news is if you don't get out and get it on Friday, you'll have to pay to play Saturday and Sunday.

That's because season pass restrictions are in effect for the President's Day Weekend for anyone with a Merchant Pass, Teacher Pass, Colorado Pass or the elusive Other Pass (Guest Fee, Young Adult and Community Relations.

You can still ride but you'll have to pony up for a discount single-day ticket at the window, and that price varies according to the type of pass you have.

If you have resort charge on your pass and you forget restrictions are in place Saturday and Sunday, you'll be charged for a ticket (I found that out the hard way once), but only at the discount rate.

If you're not sure what pass you're holding or what your discount rate is, call the info centers at (970) 754-8245 (Vail) or (970) 845-9090 (Beav).

Speaking of the Beav, if the idea of massive holiday crowds (we hope given the economy) causes you to run wildly for your skinny skis, all the aforementioned season passes are not restricted on the Strawberry Park chairlift, where you can ride up to the most scenic resort Nordic area on the planet, the mountaintop McCoy Park.

Just stop by the Nordic Sports Center at the base of the lift and pick up a foot-passenger ticket to ride the lift and hit 32 kilometers of trails between 9 a.m. and 4 p.m. either day.

Now, here's a little follow-up on my previous blog on Lindsey Vonn: the Ski Club Vail racer missed the GS at the World Championships in Val d'Isere, France, Thursday after cutting her thumb on a champagne bottle celebrating her downhill win on Monday. She had to have surgery on the tendon.

GS is Vonn's worst event. It's the only discipline she's never won on the World Cup circuit, but she came close in Aspen this season, finishing just off the podium in fourth. But the way she's skiing, who knows?

The best American finish was by 2006 Olympic GS gold medalist Julia Mancuso in 18th. Vail's Sarah Schleper, on the comeback trail after time off for injuries and to have a baby, didn't qualify for the second run.

The point is we'll never know what Vonn might have been capable of, and now the defending women's overall World Cup champion (and current leader) has to wait till Saturday to see if she can win the slalom and tie Bode Miller for the most career World Championship medal by and American (five).

Speaking of Miller, the defending overall men's World Cup champion seems spent this season. He's come close in a few races but remains winless on the regular circuit and at Worlds.

Now he's telling journalists he's likely retiring after this season. That would be a shame given what a circus the Vancouver Olympics are going to be next year and what a great ringleader Bode would be.

He says he doesn't care, but it would awesome to see the greatest American ski racer of all-time (and one of the all-time best in the world) finally get that elusive Olympic gold medal.

And on the topic of gold medals, if flying fishing rivers and streams with that coveted designation are high on your list of favorite places, you'll certainly want to know what might happen to the Yampa River near Steamboat (an hour and a half to the north of us).

Towns and counties along the Yampa in northwest Colorado are starting to gird for battle against mighty Shell Oil, which in December filed a claim on the Yampa for enough water to fill a proposed reservoir for future oil shale production.

According to the Steamboat Pilot and Today newspaper, the town of Yampa's board of trustees last week voted unanimously to join any organized legal efforts to block the water grab by Shell.

The paper on Sunday reported that Shell, which filed for 375 cubic feet per second on Dec. 30, wants to build a 45,000-acre-foot reservoir in Moffat County for use in future oil shale development. The Denver Post first broke the story in early January.

Late last month Moffat County commissioners met with the board of commissioners for Routt County (home to Steamboat Springs) to discuss jointly opposing Shell's water rights application and sharing potentially massive legal fees. Moffat County officials said they plan to follow their land-use board's suggestion that the county file a formal protest.

According to the Pilot and Today, Moffat County Commissioner Tom Gray was skeptical about the move: "I don't think there's a leg to stand on to say this isn't a valid use of the water."

But Gray added that a recent meeting of the Yampa/White Basin Roundtable, a coalition of stakeholders along the river drainage, sparked a degree of alarm about the impacts to the river such a claim might have in the long term. "There is a huge concern up and down the river about this filing," he said.

A report prepared for the Yampa/White Basin Roundtable last fall and first reported by RealVail.com indicated the Yampa and other rivers such as the Green and the Colorado in northwest Colorado could not support a full-scale oil shale boom.

And that's just from a development standpoint. One cringes to think what might happen to our favorite fishing hole and raft and kayak runs.


1 Comment on "Vail powder day on tap, pass restrictions in place, Thumb-gate revisited, water war in Yampa "