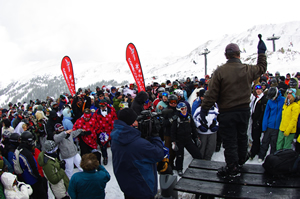 Loveland reported 120 couples participated in the 18th Annual Marry Me & Ski Free Mountaintop Matrimony on Valentine's Day Saturday.
Courtesy of Loveland Ski Area
Blog Tools
Comments
PermaLink
President's Day powder to the people at Vail; wedded bliss at Loveland; Worlds wrap up in France
By David O. Williams
February 15, 2009 — Vail was the big winner in the statewide snow sweepstakes Saturday, reporting 8 inches new at 5 a.m. Sunday, and a hair under 2 feet (23 inches, to be precise) since Monday. The Beav' tallied 5 new and 28 since Monday.

I'm heading out for Day 28 of my 08-09 ski season Sunday under bright blue skies and in some seriously frosty temps (10 degrees Fahrenheit at 8 a.m.). Hopefully it'll warm up a tad, but at least the flakes will be frosted and fluffy.

Monday, President's Day, is slated for a family ski day at Beaver Creek. Day 29 should be good, and gets me one day closer to that magical 30-day target. A month on skis every year is always my goal, and anything above and beyond is bonus.

Pass restrictions are lifted on Monday, so if you have the day off, it should still be some exceptional skiing out there, and more snow rolls in Monday night. In fact, the whole week is looking fairly snowy, so some mid-week powder days may be in the forecast (check the Powder Predictor for more detailed prognostication).

The World Alpine Ski Championships wrapped up in Val d'Isere, France, on Sunday, and the men's slalom was a bit of a bummer for the Americans. Worlds giant slalom bronze medalist and 2006 Olympic combined gold medalist Ted Ligety of Park City, Utah, was fifth heading into the second run Sunday but straddled the second gate in the second run and was DQ'd.

Bode Miller, going for a gold in the only discipline he hasn't won a world championships in, didn't finish the first run, and the only bright spot for the Americans was Jimmy Cochran (Keene, N.H.), who turned in the fastest second run to finish 10th.

Vail and Beaver Creek recently made it official, throwing the valley's hat into the ring for the 2015 Worlds (we last hosted in 1999 and are the only U.S. resort to host the event twice). RealVail.com reported a 2015 bid was likely after we lost out on 2013, but that's a long ways off. In the meantime, start making your plans for the 2010 Winter Olympics in Vancouver, which promise to be completely off the hook.

On the topic of extraordinary ski events, Loveland – about an hour east of Vail along I-70 – hosted its 18th Annual Marry Me & Ski Free Mountaintop Matrimony, proving some people will do anything to ski free.

Loveland officials reported 120 couples participated in this year's Valentine's Day ceremony, with 40 couples actually tying the knot and another 80 couples renewing their vows. And they reported a few inches new that day; talk about your wedded bliss.

Anyway, off to sample the snow at Vail. Look for a first-hand report a little later.


Comment on "President's Day powder to the people at Vail; wedded bliss at Loveland; Worlds wrap up in France" using the form below