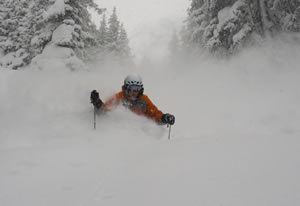 Psyche, this isn't Vail. Our favorite Gems marketing director, Greg Ralph of Monarch, cashes in one of the perks of his gig Wednesday at the southern resort, which saw 15 inches and counting from the current storm. With snow falling hard in Vail Wednesday afternoon, we hope it looks this come Thursday.
Blog Tools
Comments
PermaLink
Slow-moving storm teases Vail so far, but could still produce big-time on Thursday
By David O. Williams
February 18, 2009 — Here's how spoiled we are here in ski country: When I woke up this morning (Wednesday) and saw "only" 5 inches of new snow had fallen as of 5 a.m. Tuesday, I decided not to head up on the hill.

Thing is, when you live here, you have to be somewhat choosy about when you ski. Even though I knew the mountain was going to be pretty good – likely an epic powder day by East Coast or Midwest standards – 5 inches was a little disappointing to me. I was hoping for more out of this storm.

And if as a Vail local you head up every single day that's merely a somewhat decent powder day, especially during an epic season like this one, you never get any work done and wind up penniless and devoid of any real meaningful relationships in your life (unless you convince your significant other to regularly play hooky too, and then who subsidizes your lifestyle?).

And besides, you have to know when the 5 inches fell. If it's all after the lifts shut down for the day at 4 p.m., then you might want to get out there. If, as was the case Tuesday, most of it fell during the day and was therefore all skied out, it's not as good.

Now, I'm still holding out hope for this storm, which packed much more of a punch to the south (Monarch was reporting 15 Wednesday afternoon). As I write this just before 2 p.m., it is snowing quite hard in West Vail and has been snowing off and on all day (probably a few more inches on top of that 5).

If it snows a few more after the lifts shut down, then you'll know where to find me tomorrow (Thursday) for Day 30 of my 08-09 season.

3 Comments on "Slow-moving storm teases Vail so far, but could still produce big-time on Thursday"