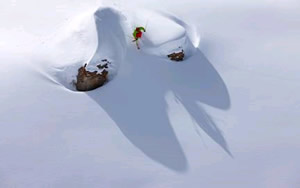 The great Jack Affleck delivers yet again with this shot from Vail Mountain Tuesday.
Courtesy of Vail Resorts
Blog Tools
Comments
PermaLink
A wet one down low proves surprisingly soft and deep up high at Vail
By David O. Williams
February 25, 2009 — Day 31 of my season on Tuesday was a sicker than expected ski experience at Vail given the pissing rain all day Monday.

The official report was 8 new and it did not lie. But it was a bit gloppy in the nether regions of the mountain (like anywhere below say Mid-Vail).

Whistler weather in February at Vail happens, but it's not a typical thing, so if you still don't believe in global warming, step out of your Hummer, put the matches down and stop and smell the flowers. Because they're actually pushing up through the snow!

We may have had back-to-back silly ski seasons in terms of abundant snowfall, but spring both years has kicked off third week of Feb. instead of March, and that's freaking weird.

And now the foreign clientele is starting to take notice. I did a few runs before hooking up with friends (Faro Glade, Seldom, Headwall and Genghis, if you must know), and each lift ride I was barraged with Spanish and German and other languages I couldn't quite make out (might have been Snowboarder).

On one ride, a couple of Mexican guys complained the snow was a bit crusty underneath (and it was on south and west-facing slopes), and then later a German couple chided me, wondering where the "champagne" powder was.

I explained we ordered up some "dunkel" beer powder just for them. And then I told them if they'd get off their skinny Euro carver skis, they'd have no prob.

All kidding aside, though, it was pretty good up there Tuesday. I hit Earl's Bowl for some untracked mashies and had no trouble carving through the stuff. Highline and Prima Cornice also delivered.

With 8 on Tuesday and 18 new in the past week, Vail went over the 25-foot mark for the 2008-09 season, or 304 inches to be precise. That?s 18 percent above the year-to-date average for the past eight years.

And here's a shout-out to RealVail's Powder Predictor, Reid Griebling, who called for 4-7 inches Tuesday and therefore only under-forecast by one inch. Reid says it will be unseasonably warm through the rest of the week, with colder weather and more snow headed our way for the weekend.

Hope he nails that one. It's too early for spring skiing.

Comment on "A wet one down low proves surprisingly soft and deep up high at Vail" using the form below