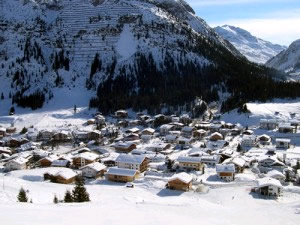 The picturesque village of Lech, Austria, sister resort of Beaver Creek, virtually eliminated its brown cloud and now heats 90 percent of its lodges and hotels using a biomass power plant.
Courtesy of Brian Sipes
Blog Tools
Comments
PermaLink
Vail, Avon biomass plants may be best way to battle beetle kill, generate renewable energy
By David O. Williams
February 26, 2009 — Biomass mania has hit the Vail Valley – or at least it should be – as both a Vail councilman (Mark Gordon) and Avon councilman (Brian Sipes) have revived the idea of building wood gasification power plants that would use extremely high heats to consume woods chips to generate hot-water heat for hotels, public buildings and even homes.

A similar plant provides 90 percent of the heat to the hotels and lodges of Lech, Austria, sister resort of Beaver Creek, and Vail and Beaver Creek officials have toyed with the idea of adopting the technology here for years. It makes even more sense in the Vail Valley, which is surrounded by millions of acres of dead or dying lodgepole pines hit by a mountain pine beetle epidemic.

Austria farms its forests to manage the renewable resource, making a biomass plant virtually carbon neutral. All the dead trees surrounding Vail and Beaver Creek will release their carbon dioxide one way or another – either when they fall down and rot or go up in flames.

Now with more than $130 million in stimulus funds coming Colorado's way for new-energy projects (although most of it will go toward weatherizing low-income homes), there are funds that may be available for innovative projects that both reduce the fuel load for wildfires and provide alternative, renewable energy.

Anyone who thinks a biomass plant is an idea worth exploring should contact the two councilmen and urge them to make the process public and start chasing public funds. Check out my stories in both Real News and Real Biz (a similar plant just cranked up at Middlebury College in Vermont), and let's start generating support for a very practical solution to beetle kill mitigation and renewable energy needs.

In other political news, SB 108, the so-called FASTER plan to fund road and bridge repairs, is just a couple of minor procedural steps from hitting Gov. Bill Ritter's desk for a signature after the state House of Representatives passed it 34-31 on final reading Wednesday.

Introduced by Dan Gibbs (D-Silverthorne) in the Senate and Rep. Joe Rice (D-Littleton) in the House, FASTER raises vehicle registration fees for most cars and trucks by $32 the first year, up to $41 after three years. It will raise more than $250 million a year to repair roads and fix the state's 126 structurally deficient bridges.

Much like the debate in the Senate, Republicans once again tried to throw up a roadblock to keep FASTER from becoming a reality, claiming it's another financial hardship in tough economic times. But Democrats countered it's the first new funding for road and bridge repairs in 17 years. The last time was when the state's gas tax was increased.

"Nobody disagrees that there's a problem safety-wise, nobody disagrees that we want to try and save private sector construction jobs, the question is what do you do about it, and of course it's a natural reaction, everybody first wants to do something that's not painful and doesn't require new fees," Rice said.

Every House Republican and four Democrats, including Majority Leader Paul Weissmann (D-Louisville), voted against FASTER. Rice said that because TABOR won't allow the state Legislature to increase taxes to fund transportation, a fee hike was the only recourse.

"We're in this boat because the gas tax has been declining for 17 years," Rice said. "People are paying less than they did the year before, and most people understand the only real way to fix it is we have to bring in some new money to transportation. And frankly the cost of doing nothing is more expensive. It may be more indirect, but it's more expensive."

There was more debate about a provision that would allow local jurisdictions to impose tolls on existing roads, but ultimately it stayed in because Democrats argued it gave one more potential tool to local governments. Again, see previous stories in Real News.



5 Comments on "Vail, Avon biomass plants may be best way to battle beetle kill, generate renewable energy "