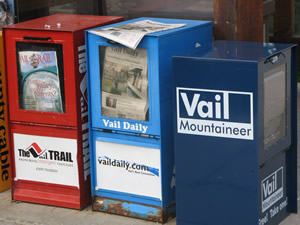 The Vail Daily, middle, stopped publishing the Vail Trail, left, late last year, and now has cut staffing to 2002 levels. But editor Don Rogers says it has nothing to do with the start-up of the Vail Mountaineer, right, last summer.
By David O. Williams
Blog Tools
Comments
PermaLink
Newspaper wars have morphed into newspaper woes in Vail, Denver
On the day the Rocky Mountain News died, Vail Daily confirms staffing cuts to 2002 levels
By David O. Williams
February 28, 2009 — On the day Denver lost one of its major metro newspapers, The Rocky Mountain News, there were signs that even small-town community newspapers in Colorado — once believed to be relatively bulletproof — are starting to struggle.

While he would not give specific numbers, Vail Daily editor Don Rogers, whose paper boasts 90 percent market share in affluent Eagle County and last year reportedly grossed $12 million in a circulation area with a population of 50,000, confirmed Friday the paper has cut staff to 2002 levels.

"The Vail Daily is shrinking in sync with the greater business community," Rogers said in an e-mail. "We rise with them, and in the past five years or so, we soared with them. Now we're sharing their pain."

Rogers denies that a second paper in town, the six-day-a-week Vail Mountaineer, has significantly impacted the bottom line. Instead, he said it's made the Vail Daily a better paper editorially. Overall, Rogers says community papers are still dealing from a position of strength.

"Community papers have a big opportunity. A lot of what I see with the big boys is that they sunk themselves in big debt, built huge hierarchies and probably need to fall so that some fresh grass can grow. I also believe that yet again our obit as an industry is exaggerated. Someone will figure out that at least at the community level, we're still the way to get their message out."

Eagle County real estate sales — a big advertising sector for The Vail Daily — fell to 2004 levels last year, declining 25 percent to $2.2 billion.

Friday's Vail Mountaineer, owned by Jim Pavelich, who also owns the free, small-circ Denver Daily News, crowed that there are now only two Denver dailies left in the fight. But it's doubtful the DDN will ever come close to achieving the multiple-Pulitzer-winning status of the Rocky Mountain News, or give the Denver Post much of a run for its money. But I guess you never know.

My first paid byline was in the Rocky Mountain News in 1988 – a college football story that was a minor scoop on The Denver Post.

Before I'd ever even landed a byline in my school paper at Metro State College, an editor at the Rocky gave me a shot because I was a part-time clerk in the ultimate newspaper anachronism, the editorial library.

The industry that editor got me hooked on nearly 21 years ago is imploding nationwide, and the Rocky, Denver's longest continuously operating business, published its final edition Friday.

I went on to get dozens of stories published in the Rocky before I graduated from Metro in '91 – everything from hard news to lifestyles to sports and business.

Because I toiled in the gloom of the newspaper morgue — carefully clipping out articles and filing them away in envelopes that were then tucked into massive revolving file drawers — I heard it all back there.

As reporters did the late-80s version of a Google search, I eavesdropped on the bitching about pay and hours and the brutal newsroom politics. But I also heard when a department was short-staffed, and I was quick to volunteer as a stringer.

A techie uncle of mine in California told me I was an idiot for studying journalism and angling for a job at a major metro. He predicted this new thing called the Internet would render newspapers obsolete within 20 years.

I laughed at him then. The world will always need reporters and storytellers; even the Internet would need information. Turns out we were both right.

Longtime Rocky columnist Gene Amole, not surprisingly, was one of the most loyal denizens of the editorial library. He was deeply displeased when we went electronic in the late '80s, posting stories in an internal database searchable by reporters at their own terminals. Amole kept coming back to the clip files.

I thought of him Thursday when I heard the news that today's Rocky would be the final edition. He found searching clips at his terminal to be awkward and not at all user-friendly. I wonder what Amole, who died in 2002, would have to say about actually reading the paper on a laptop or phone.

On Thursday, when I read that the Rocky, 55 days shy of its 150th birthday, was pulling the plug, I was taping a TV show on which I was touting the stories I've been writing for a nonprofit, Web-only publication, The Colorado Independent. I read about the Rocky on my Blackberry.

Nearly 80 percent on my income in 2008 was derived from the Internet, either from the Colorado Independent or from this Web site, RealVail.com.

I started RealVail.com with tech partner Kent Van Vleet and fellow freelancer Tom Boyd, another former editor of the Vail Trail, Vail's oldest newspaper that went belly up late last year. Both Boyd and I were motivated by our negative experiences with Swift, the newspaper chain that owns the Vail Daily and bought the Trail in 2003.

It also seemed logical to start a local-content Web site as a platform to re-post some of our other freelance work. Now many of those freelance venues have gone under, and we're left with "just" the Web site, which grows in unique viewers by the day.

One of the biggest favors the Rocky did me was not offer me a job when I graduated in '91. I landed in Vail and carved out my career path – a self-taught one largely devoid of the invaluable editing I got at the Rocky during college – but a path that better prepared me for today's new reality.

I started an alternative daily for the Vail Trail, taking on the Vail Daily and learning virtually every aspect of the editorial side of the business, including photography, layout, design and Web posting. In recent years I've delved into marketing and sales for my site and another publication.

This blurring of the lines between editorial and advertising can be a dangerous thing, but every journalist should know where their paycheck comes from … and how hard that revenue is to come by these days.

Lean-and-mean local-content Web sites may be the future of the industry, and I wouldn't be surprised to see some former Rocky staffers go that route. After all, it is deeply satisfying to at least in part own the method of your own delivery.

I launched this site because I was sick of working for idiot publishers, but the concept of inmates running the asylum may terrify some news consumers. It certainly puts more pressure on them to vet the information they're consuming and consider its source.

But I contend most readers are smart enough to do that anyway, and even mainstream media and major metros have their sacred cows because of the influence of ad dollars.

Now it's just up to the news-consuming public to be a little more discerning, and perhaps even join the news-gathering fray if they choose.



3 Comments on "Newspaper wars have morphed into newspaper woes in Vail, Denver"