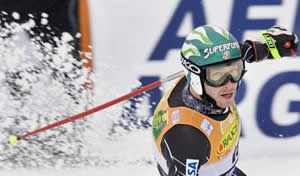 Blog Tools
Comments
PermaLink
A-Rod gets hip checked in Vail; Miller time may be up for Bode; and Schleper wins Euro FIS race
By David O. Williams
March 4, 2009 — Alex Rodriguez, aka A-Rod, will reportedly be visiting Vail today to see renowned hip specialist Marc Philippon of the Steadman Hawkins Clinic about a cyst the beleaguered Yankees third baseman has developed in his right hip.

I say beleaguered because A-Rod, a virtual lock to one day break Barry Bonds' career homerun mark, has been dubbed A-Roid of late because of revelations that he "knowingly" used steroids during his stint with the Texas Rangers – the second President Bush's former club that apparently was a haven for performance-enhancing drug abuse.

Philippon, profiled not too long ago by RealVail.com, has worked on some of the most famous hips on the planet, but this one will likely bring a pack of national media – something the Steadman Clinic is used to by now (see Kobe Bryant case, Monica Seles post stabbing, etc.).

Dr. Richard Steadman, also profiled on RealVail.com, first made a name for himself patching up ski racers, but now athletes from all the major sports (and a lot of minor ones) come to Vail every year for some orthopedic salvation at altitude.

Steadman once put Bode Miller's knee back together with microfracture surgery in time for the enigmatic ski racer from New Hampshire to win two silvers at the 2002 Salt Lake City Olympics. On Tuesday, Miller announced in his blog that he's done racing for the season.

"I am going to take the rest of the season off. Due to a number of factors, it makes sense to call it a season.

"I came into the season excited, with my mental and physical intensity where I wanted it to be. I had speed and raced hard all season but it didn't translate into the results we were hoping for. I have been racing World Cup for a while and need a break. At this time I find more happiness doing other things than being on tour. In terms of retirement, I have not yet made any decisions."

With 31 World Cup wins and two overall titles, Miller is the most successful American ski racer of all time, but he's winless this season and apparently has been battling an ankle injury sustained at the Birds of Prey World Cup in Beaver Creek in December.

Always outspoken, Miller tells it like it is, and if he retires before the 2010 Winter Olympics in Vancouver, it will be a huge loss for the sport. His likely take on A-Rod? Let Rodriguez and anyone else in Major League Baseball do whatever they want.

He once said the only real way to make sure it's an even playing field in all sports was to make everything legal, because new drugs would always be developed to beat the system. That statement went over about as well as the whole skiing buzzed thing, but that's just another example of Bode being Bode.

One skier who does appear poised to make it to Vancouver is Vail's own Sarah Schleper, who on Tuesday won an International Ski Federation (FIS) race in Switzerland. Although not a regular World Cup, the win is the first for Schleper since coming back after two years off to deal with injuries and have a baby.

A win against any field is huge and should give her the confidence to finish the season strong.




Comment on "A-Rod gets hip checked in Vail; Miller time may be up for Bode; and Schleper wins Euro FIS race " using the form below