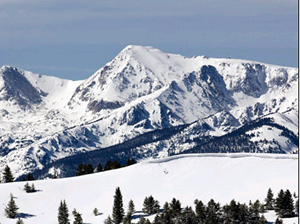 Yes, it's pretty, but when will it next be covered in fresh snow?
Courtesy of Vail Resorts/Jack Affleck
Blog Tools
Comments
PermaLink
In Vail for hip surgery today, Alex Rodriguez may be bringing some snow with him
By David O. Williams
March 9, 2009 — Another storm, another disappointing snow total. Sure, we'll take the 6 inches we got overnight Saturday, which I'm sure made for a decent day Sunday at Vail and Beaver Creek, but it was far from a typical March dump.

I was at Copper Mountain on Sunday (Day 33) for another one of my son Nick's ski races, and they reported a legit 4 inches new. It unquestionably made for much softer, smoother turns – especially high in Union Bowl – but it was by no means the kind of pasting we need to carry us through to closing day.

That may be in the works for tonight, but I'm hesitant to call for it definitively. Some forecasts (9News) are predicting 8-16 inches for the central mountains (that's us) overnight tonight into Tuesday morning (National Weather Service says 4-8), and you know how I feel about mid-week powder storms. Maybe since the last several storms have failed to live up to their billing, this one will be the real deal.

That would give Yankees third baseman Alex Rodriguez something to stare out the window at as he recovers in the Vail Valley Medical Center after arthroscopic surgery today at the Steadman Hawkins Clinic to repair a torn labrum in his right hip.

According to the New York Times, A-Rod will be here about a month after Dr. Marc. Philippon performs the surgery today, rehabbing and watching all the spring skiers partying on Vail Mountain leading up to the Spring Back to Vail bash April 13-19.

It's hard to put a dollar value on the marketing Vail has received from the A-Rod visit (mentions every few minutes on Sports Center, etc), but it underscores the paramount importance of keeping the world-renowned Steadman Hawkins Clinic and the VVMC in some form in Vail.

Talk of relocating the bulk of the campus down-valley and just maintaining urgent care facilities because of the cramped campus and value of the land in Vail miss the mark on the marketing value and direct dollars that accrue to Vail from extended stays by athletes and other well-heeled patients who don't blanch at $2,500-a-night room rates.

Vail should be not only an orthopedic mecca but also a health-care and wellness destination for active guests from around the globe. To some extent it already is, but so much more could be done to position Vail as more than "merely" the nation's top winter sports destination.

Sorry, I'll come down from soapbox now to pontificate on the real reason we're all here (at least this time of year): skiing and riding. If tonight's storm materializes to the extent anticipated, we'll be getting very close to our seasonal average of 350 inches at Vail, with about 40 days left in the season.

We're at 317 right now, which means one or two more good dumps will easily carry us through till closing day April 19, especially high on the mountain.

April is shaping up to be hugely fun, with the often overlooked but sometimes quite impressive Vail Film Festival set for April 2-5 and Spring Back to Vail April 13-19.

Chris Isaak, Matisyahu and O.A.R. will all be playing free shows in Vail Village for Spring Back, and Vail Resorts is offering a seven-day lift ticket for $199. Conditions can actually be quite killer that time of year, with Vail closing with a 12-inch powder day last season.

Lodging deals will also likely be off the charts. Check out Vail on Sale for all the last-minute deals.



Comment on "In Vail for hip surgery today, Alex Rodriguez may be bringing some snow with him" using the form below