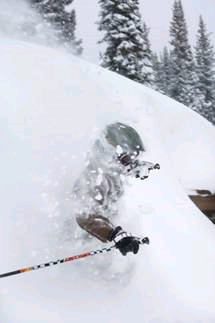 This was the scene Tuesday morning at Vail, where the official report said 8 inches new, but that was at 5:30 a.m. A few more inches fell after that, making for a sweet mid-week, mid-winter-like powder day.
Courtesy of Vail Resorts
Blog Tools
Comments
PermaLink
Is A-Rod's cousin doing some cloud seeding? Because snow was hip-deep at Vail Tuesday
By David O. Williams
March 11, 2009 — I love to say I told you so.

If you go back and read my previous blog entry, you'll notice I (sort of) called for a big mid-week powder day. And while Vail "only" reported 8 inches new Tuesday, that was at 5 a.m. A few more wind-whipped inches fell after that before the storm cleared out around noon.

A-Rod must be our lucky charm, because with the Yanks all-star third baseman in town for hip surgery, we're been getting the snow that was a little scarce in February and the first week of March.

Maybe his cousin is doing some cloud seeding ... who knows? Anyway, we'll take it, and more is supposedly on its way Thursday night into Friday. Bring it on.

High winds kept almost all of the backside chairlifts closed all morning Tuesday. The only one up and running was Chair 5, and the line was big, especially early.

When Chairs 17, 21 and 36 finally did open, it was a land rush or epic proportions, with the first few lucky snow riders nabbing fresh tracks down Genghis Khan and other backside classics.

Blue Sky Basin was still closed for avalanche control as of 1:15 Tuesday, and no word on whether it ever did open, but since it closes at 2:30 anyway, it's doubtful. Regardless, its north-facing runs will be mostly untracked, wind-loaded and ripe for the plundering today.

Vail is now rapidly closing in on 330 inches for the season, and Beaver Creek passed 300 (officially reporting 10 new on Tuesday). Both resorts are reportedly 6 feet ahead of season-to-date averages, with more than a month of skiing left.

Speaking of ripe for the plundering, Ski and Snowboard Club (SSCV) Vail's Lindsey Vonn has a good shot at grabbing her second straight overall World Cup globe today in the women's World Cup Finals downhill in Are, Sweden -- something no American woman and only one American man (Phil Mahre) has ever accomplished.

Closer to home, another SSCV racer was making his mark at the Junior Olympics Tuesday. Nick Braun of Edwards just missed the podium in the giant slalom at the J3 Rocky/Central Division JOs in Vail, but he won the downhill and silvered in the super-G over the weekend. Way to go, Nick.



Comment on "Is A-Rod's cousin doing some cloud seeding? Because snow was hip-deep at Vail Tuesday" using the form below