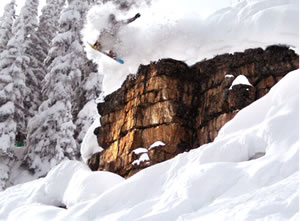 A snowboarder goes big and takes advantage of the soft landings Tuesday in Stone Creek Chutes at Beaver Creek.
Courtesy of Vail Resorts
Blog Tools
Comments
PermaLink
Winter rages back into Vail; Stone fizzles on state stage; and Ketchup is all the rage in Eagle
By David O. Williams
March 25, 2009 — Back slowly away from the mountain bike, lower your golf clubs back into your crawl space, and generally give up on the notion that the fur-clad fat lady is singing for Old Man Winter.

In fact, the first full week of spring is looking much more like winter than, well, the last month or so of winter. As of Wednesday morning, Vail was reporting nearly 2 feet of new snow since Sunday, easily bringing the snow total above the seasonal average of 350 inches with a little more than three weeks of skiing remaining.

I literally watched this front roll into Canyonlands in southeastern Utah Sunday while hiking with my kids in the Needles District. Within a couple of hours we were surrounded by swirling winds and thick clouds of desert dust.

We packed up and came home the next day only to find all that dust coating cars throughout the Vail Valley, more than 250 miles away, but that was soon all covered over with snow. And although I wasn't able to get on the hill Tuesday, my spies tell me it was a great, mid-winter powder day.

The latest pasting, expected to increase with more snow in the forecast through Friday, will easily carry us through to closing day (April 19) with a solid base. And that was a sketchy proposition just a week or so ago, given the balmy temps and lack of precip.

Speaking of pastings (and sketchy propositions), I came home to the news of former Eagle County commissioner Tom Stone's drubbing at the hands of state Republican Party Chairman Dick Wadhams at a statewide GOP gathering over the weekend. Stone was seeking Wadhams' seat but was pounded by an 85-15 margin.

I don't know if this says as much about how Eagle County politics play on a statewide stage or whether Wadhams was just more of a known, name quantity, but a few local Republicans I've talked to are glad Stone's more conservative ideology and personal brand of politicking won't help shape the state party's agenda -- at least in 2010. Still, don't look for a flood of moderates to rush in with Wadhams at the helm either.

It was better news for another down-valley resident, Eagle student Addison Nothnagel, who was named one of 36 finalists in this year's Heinz Ketchup Creativity Contest (out of a whopping 45,000 entries).

Addison is one of three finalists from each of the 12 grades, and now America will decide the 12 winners by voting for their favorite design through the end of today on www.KetchupCreativity.com.

The winning artwork will be reproduced on, get this, 20 million Heinz Ketchup packets, and the 12 winners will get a $1,000 cash prize. Their schools each get $1,000 toward art supplies, a poster of the winning design and $1,000 worth of Heinz Ketchup. That will render more palatable a lot of school lunches.

So vote early and vote often. Only one word can describe how we'll be feeling until the winner is announced ... anticipation.






Comment on "Winter rages back into Vail; Stone fizzles on state stage; and Ketchup is all the rage in Eagle" using the form below