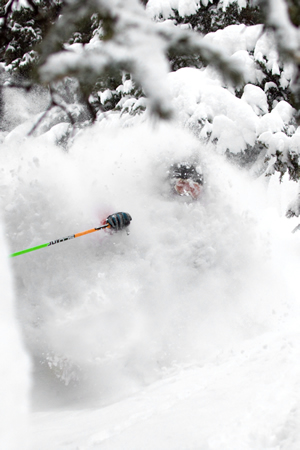 Palmer Hoyt was buried at Beaver Creek Wednesday morning after a winter storm delivered another 6 inches of snow overnight, for a total of 18 inches since Sunday. Another 16-22 inches is expected by Friday.
Courtesy of Cody Downard/ Beaver Creek Resort.
Blog Tools
Comments
PermaLink
Spring storms pound Vail Valley with 3 feet of new snow
By David O. Williams
March 26, 2009 — OK, Elizabeth, this really is the big one.

As I was writing this late Wednesday evening it was snowing hard in the Vail Valley, and we are supposed to get another 16-22 inches by Friday morning (we wound up with another foot overnight for a four-day total of 35 inches ... so far).

Memories of six warm, dry weeks in February and most of March are quickly fading in the midst of what one friend told me was the best snow cycle he's skied all season.

I wouldn't know. I haven't been on the hill since the last big powder storm March 10, mostly because of the balmy conditions. But now that winter is back, a scheduling fluke has me stuck at home running the West Vail version of Daddy Daycare.

My kids are out of school on spring break, and given the vagaries of the global economy and the demands of work during one of the busiest months in ski country, we are going nowhere despite the kiddies being sans educational responsibilities.

I know what you're thinking: "Boo-hoo, so you're stuck in Vail." Well, just try jumping into the powder-choked Back Bowls with a 5-year-old. But today, come hell or high winds, grandma is watching the kindergartner and my 8-year-old and I are going to get neck deep in Blue Sky Basin.

Stay tuned for coverage of that potentially monumental event. And speaking of monumental events (and coverage), I'll now awkwardly segue to cycling, which is what we would all be doing if winter hadn't revisited the valley.

Check out the online work of RealVail.com blogger and Velo News correspondent Jason Sumner (aka the Front Ranger) covering the recent and incredibly rare injury of cycling god Lance Armstrong, who is now questionable for his celebrated return to the Tour de France. Nice job, Jason.

And as long as we're tooting our own horn, I will literally toot my own horn by pointing out the pickup by Discover Magazine's blog of a story I did for both RealVail.com and the Colorado Independent on the oil industry's cornering of the Western Slope water market for future oil shale development.

And on the topic of oil and gas production on the state's Western Slope, kudos to the State Legislature for sticking to its guns and moving new oil- and gas-drilling regulations forward.

With the new, more environmentally stringent regs a perfunctory state Senate vote and gubernatorial signature away from going into effect next month, all the Republican gnashing of teeth seems to have fallen largely on deaf ears.

Senate Minority Leader Josh Penry, R-Grand Junction, made one last-ditch attempt to water down the new Colorado Oil and Gas Conservation Commission regs, which give more weight to public safety, wildlife, water- and air-quality issues in the formerly frenetic natural gas boom in Weld County and on the state's Western Slope.

The GOP rallying cry that the new regs – in the works and intensely negotiated since 2007 – are a major job-killing mistake that will send industry off to much friendlier states rang hollow with the Democratic-controlled state Legislature, which is not surprising.

Industry observers and lawmakers like Rep. Joe Rice, D-Littleton, saw right through the economic argument that the pending regs were costing jobs, mainly because the industry is scaling back around the nation in lockstep with plummeting energy prices in the wake of the global economic downturn.

But with even some moderate Republicans like Sen. Al White, R-Hayden (our Vail-area state senator), jumping on the jobs bandwagon, it's clear the state GOP leadership will revisit this theme again and again leading into the 2010 election.

Most industry observers agree that the degree to which the economic argument will resonate with voters in the battle for control of the governor's office and the state Senate will depend largely on the success of Gov. Bill Ritter's "New Energy Economy" and the overall state of financial affairs a year from now.

For those of us in ski country who feel promoting alt energy and preserving at all costs our mountain environment are the right things to do, even economic woes won't play too heavily into how we vote in 2010. Booms will boom and booms will bust, but the mountains of Colorado are worth fighting for.


Comment on "Spring storms pound Vail Valley with 3 feet of new snow" using the form below