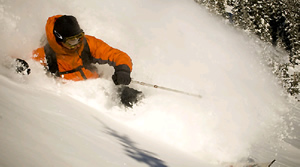 The snow was deep and plentiful late last week in Vail, where more than six feet fell over the past two weeks, bringing the season total to 419 inches. But things have set up a bit since then, with plenty of sunshine.
Courtesy of Jeff Cricco/Vail Resorts
Blog Tools
Comments
PermaLink
Crust on dust at Vail; power of prayer in paper biz; and sheriff's department seeks stool pigeons
By David O. Williams
April 8, 2009 — The snow has finally stopped falling, the dust has settled and a strange orb has been moving across the sky the last few days in the Vail Valley. I believe it's the sun.

Between Sunday, March 22, when a massive Iraqi-style sand storm chased me and my boys out of Canyonlands in southeastern Utah, where we were doing a little spring-break camping, and this past Saturday, April 4, Vail has received more than six feet of new snow ... and several inches of red desert dust from the Four Corners region.

The dust followed us back to Vail March 23 and was plastered to everyone's cars, but who cared, because snow quickly coated our vehicles and the skiing was phenomenal. Then it happened again this past Saturday.

Friday and Saturday were two of the deeper days of the ski season (40 and 41 for me), but the moisture content was high and it was definitely Steadman snow (meaning a threat to most mortal ACLs). And on Saturday I noticed it was laced with more desert dust.

Despite a lift-op's sign proclaiming it ash from the Mount Redoubt Volcano in Alaska, I'm pretty sure the dust was simply carried by the same winds that brought the snow. Now that dust will likely melt the base a little quicker now that the sun has returned, but supposedly we're getting more snow tonight and into Thursday. That's fine, snow gods, just hold the dust.

And on the topic of gods, here's a strange item out of Glenwood Springs involving the parent company of the Vail Daily:

There's likely been a lot of prayer these days at Colorado newspapers — and financially beleaguered publications around the planet for that matter — but rarely is it enforced by a supervisor as a former Glenwood Springs Post Independent ad saleswoman alleges in a lawsuit.

According to the independent Aspen Daily News, Mary Proctor claims in a discrimination suit against the Post Independent, its owner, Reno-based Swift Communications, and her former supervisor, Clifford Fewel, that Fewel ended staff meetings with prayers and ordered her to spend her lunch hours attending church.

Proctor also alleges in her suit filed in late February in U.S. District Court in Denver that Fewel told her she's be better at her job if she was male and that he ultimately improperly fired her because she didn't share his religious beliefs. Fewel was also later fired, according to the Times, and went on to form the comedy troupe Laugh Your Aspen Off.

Swift's other Colorado papers, from the Greeley Tribune on the Front Range to the Summit Daily News, Vail Daily, Grand Junction Free Press and Aspen Times on the Western Slope, have been struggling along with the rest of the industry.

Formerly immune to the vagaries of the economy, community papers have seen revenues plummet in the recent recession. The Summit Daily and Vail Daily recently slashed editorial staff, including former Denver Post mountain-bureau reporter Steve Lipsher, who in a passionate parting column last week wrote he was excited to join a small-town paper last May because they "capture the essence of news."

Lipsher, a real pro whose excellent work touched on numerous topics critically important to mountain dwellers, ended his piece with a plea for work.

And my final item is likely not what he was talking about. I'm just going to re-post the entire thing because my colleague at the Colorado Independent, Ernest Luning, wrote it (after first noticing it in the Denver Post), and I know he won't mind:

Things are tough all over, unless you're a snitch in Vail.

Colorado's unemployment rate might be at a 20-year high, but the sheriff's department in posh Eagle County is hiring people "who hang out with crooks," The Denver Post's Kirk Mitchell notices. "Drug use and criminal record"? No problem, according to a help-wanted ad placed last week in the Vail Daily seeking stool pigeons in the ski community.

The job, classified as "part time" and "entry level," comes with a catch: "Must be willing to work odd hours." But that's unlikely to dissuade your out-of-work or underemployed tattletale, especially with the jobless rate reaching 7.2 percent in February. (Bright spot: Government jobs, which could conceivably include this one, rose by 11,800 in Colorado last month, according to the Denver Business Journal.)

Eagle County Sheriff Joe Hoy got the idea from Albuquerque police, Mitchell reports, and has already received more than a dozen calls from interested canaries. The pay isn't bad — from $100 to $1,000 per squeal — but resort snitches will have to work hard for the money. "Just saying 'Joe Blow' is a drug dealer is not enough," sheriff's Lt. Mike McWilliam told the Post.

Here's the ad, which was placed in the Vail newspaper through Monster.com:

WANTED: People who hang out with crooks to do part time work for the Eagle County Sheriffs Office. Make some extra cash! Drug use and criminal record OK. Must be willing to work odd hours. Give us a call and we can work out the details. Confidentiality GUARANTEED!!! Leave a message with a good phone number and your call will be returned. (970) 274-9648.

And in Spanish:

Se busca: Personas que se junten con ladrones para trabajar medio tiempo para La Oficina de Sheriff. A.Haga dinero extra! Uso de droga y antecedentes penales No es problema. Debe estar dispuesto a trabajar diferentes horas. DA(c)nos una llamada y podemos trabajar los detalles. A.La confidencialidad es GARANTIZADA!!! Deje mensaje con un nAmero de telA(c)fono bueno y su llamada serA. devuelta. 970-274-9648

Calls to the stoolie line reached a voice mail system and were not returned over the weekend.



Comment on "Crust on dust at Vail; power of prayer in paper biz; and sheriff's department seeks stool pigeons" using the form below