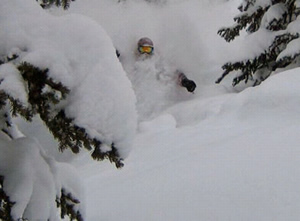 OK, so this was actually taken earlier in the month at the Beav' (which closed for the season last weekend), and it's doubtful closing day conditions at Vail will be quite this deep, but there will be some fresh snow, plenty of sun and lots of free music.
Courtesy of Vail Resorts
Blog Tools
Comments
PermaLink
Vail always seems to go out with a powdery bang
Fresh snow, free music on tap for Vail's closing-day weekend
By David O. Williams
April 17, 2009 — Seems like every closing day at Vail is the same: lots of memories of a killer but too-short ski season, lots of beer, lots of great music and, of course, lots of fresh snow.

Remember all the way back in the spring of '08 when the mountain shut down a week earlier with a nearly 460-inch cumulative, season-long snowfall total and Ben Harper on stage at Ford Park?

This season's finale is shaping up much the same way. Vail was reporting 5 new inches Friday morning, and season-to-date we've had a whopping 432 inches of snow (compared to our average of 350).

There's a chance of some more flakes through Saturday, then the sun is supposed to bust loose for closing day on Sunday. Talk about the best of both worlds.

The musical highlights? The mournful tones of Chris Isaak provide the backdrop Friday night, then O.A.R. rocks Vail Village at around 5 p.m. Sunday, so get off the hill and let ski patrol enjoy the festivities too.

For the full Spring Back to Vail lineup, including Saturday's World Pond Skimming Championships at Golden Peak, go to http://www.springbacktovail.com.



Comment on "Vail always seems to go out with a powdery bang" using the form below