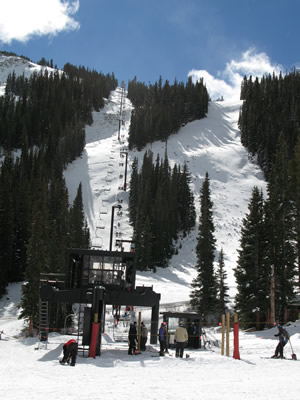 Now that's more like it. Things are starting to look a lot more like ski season at Loveland, high atop the Continental Divide but less than an hour from Denver on I-70.
David O. Williams
Blog Tools
Comments
PermaLink
Loveland offers some worthy turns
By David O. Williams
October 19, 2007 — LOVELAND SKI AREA - Day 2 of my 07-08 ski season was another balmy one.


I was expecting howling winds and a bite to the air at 10,600 feet atop the Continental Divide, but when I arrived at Loveland at around 11:30 on Friday (yes, I'm a card-carrying member of the Crack of Noon Ski Club – except on powder days), temps were in the high 30s and low 40s.


It actually had the spring-like effect of softening up the 18 inches of partially manmade, partially natural base. Loveland became the second area in the state to open on Oct. 16, joining Arapahoe Basin, which opened with one partial run on Oct. 10 (see previous O. Report).


Needless to say, with 9 inches of new snow in the last 48 hours, Loveland was considerably better than my opening day A-Basin experience (see Real Sports for a full report). But then, A-Basin has been getting some of the natural stuff, too, including 4 inches over the last two days. Both areas have one lift and a couple of trails up and running.


All of this adds up to limited terrain, and whether doing laps on intermediate runs is worth prices in the $40 range is up to you. All I can tell you is any skiing pre-Halloween is bonus to me, and it sure felt good to get out and turn my skis loose.


People this time of year smirk at my eagerness to get out on the hill, but I've decided it really boils down to jealously. They're just pissed they're not skiing.


And who knows, with a storm rolling in Saturday night into Sunday, Oct. 20-21, both areas – the only two currently open in the state – may be dropping a lot more ropes and cranking of a few more lifts in coming days. Stay tuned.


Comment on "Loveland offers some worthy turns" using the form below