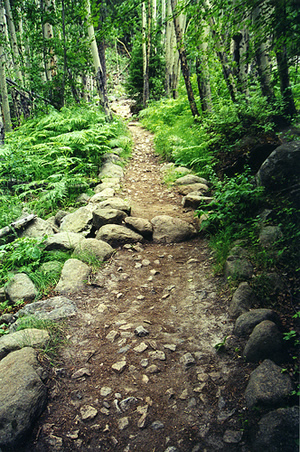 Blog Tools
Comments
PermaLink
Chu blows through Golden; lawmakers rock 'Renewablepalooza' in Denver; stalling state roadless rule
By David O. Williams
April 29, 2009 — Winds of change may have been blowing through Golden Wednesday — underscoring just how critical Colorado has become on the national clean-energy front — but the real test of the Obama administration's environmental legacy is unfolding in Washington.

Even as Energy Secretary Steven Chu Wednesday marked Obama's 100th day in office by reportedly touting $110 million in federal stimulus spending for wind-energy research and other upgrades at the National Renewable Energy Laboratory in Golden, members of two U.S. House committees are hashing out the details of a comprehensive energy bill.

Keith Hay, energy advocate at Environment Colorado, clearly has a stake in the outcome, but he likens the legislation to health care reform in the first 100 days of the Clinton administration, pointing out that because nothing was accomplished on that front then, we're still dealing with the fallout today.

Hay says this is a defining moment for the Obama administration and the Democrat-controlled Congress, which may have just one shot at getting the energy bill right and making sure it's stringent enough to effect real change.

Right now the American Clean Energy and Security Act, introduced March 31 by Henry Waxman, D-Calif., and Ed Markey, D-Mass., is being kicked around both the Energy & Commerce Committee (chaired by Waxman) and the Energy & Environment Subcommittee (chaired by Markey), with Chu and other administration officials tentatively backing some form of the legislation.

Its current incarnation calls for a 25-percent renewable-energy standard by 2025 (a higher bar than current Colorado law) and a 20-percent greenhouse gas emissions reduction by 2020 (cap and trade that penalizes polluters), but powerful forces have aligned to water down if not derail the legislation. Such a move, many conservationists feel, would neuter a cap-and-trade system and render it nearly as ineffective as the current European system.

Locally, naysayers are already lining up to blast the bill, but Colorado's congressional delegation – most notably Denver Democrat Rep. Diana DeGette who serves on Energy & Commerce – will play a key role in shaping the legislation, which is headed to a full vote sometime this summer.

And state lawmakers are pushing ahead with their own clean-energy wish list even as events play out in Washington, rallying on the steps of the State Capitol Wednesday to garner support for several energy efficiency and renewable energy bills.

With one week to go to pass six green-energy bills in the current legislative session, eight Democratic state lawmakers held a rally on the west steps of the State Capitol Wednesday — a sort of Renewablepalooza for the New Energy Economy.

Coordinated by Hay's Environment Colorado, the rally is a platform for the suite of solar, wind and energy-efficiency bills still lingering on the Legislature's docket. Lawmakers expected at the shindig are noted by italics.

• HB 1312 – creates opportunities for schools to invest in clean energy (Sen. Chris Romer, D-Denver, Sen. Gail Schwartz, D-Snowmass and Rep. Andy Kerr, D-Lakewood)

• HB 1126 - creates tax incentives for solar hot water (Sen. Brandon Shaffer, D-Longmont and Rep. Dickey Lee Hullinghorst, D-Boulder)

• HB 1323 – ensures Coloradoans who get power from rural co-ops have access to the same cost-saving energy efficiency as larger utilities (Rep. Claire Levy, D- Boulder and Sen. Jennifer Veiga, D-Denver)

• HB 1345 – creates a transmission infrastructure to put clean, green electrons on the wires and make Colorado a net-clean energy exporter (Sen. Gail Schwartz, D-Snowmass and Rep. Judy Solano, D-Brighton)

• HB 1331 - creates tax incentives for high technology motor vehicles already available to car buyers such as zero emission and low emission vehicles as well as cars reaching upwards of 70 miles per gallon. (Rep. Sara Gagliardi, D-Arvada and Sen. Betty Boyd, D-Denver)

• HB 1346 (Investment Recovery Act) – maximizes the opportunity to leverage federal support for clean energy projects in Colorado that create homegrown jobs (Sen. Brandon Shaffer, D-Longmont and Rep. Terrance Carroll, D-Denver)

HB 1323 is one of the more controversial bills, given that the only co-op it would apply to is the Intermountain Rural Electric Association, whose membership just turned back three green candidates in a contentious board election.

In other environmental news impacting the Vail Valley, a growing chorus of Colorado and national sportsmen and conservation groups are calling on U.S. Secretary of Agriculture Tom Vilsack to suspend work on the controversial Colorado roadless rule or pull the plug on it altogether in favor of a strong national rule.

Colorado Wild, the Wilderness Workshop, Colorado Trout Unlimited and the Theodore Roosevelt Conservation Partnership were among 10 groups that fired off a letter to Vilsack late last week in hopes of stalling the process at least until new leadership is in place at the U.S. Forest Service – leadership that would presumably be more in tune with Obama administration conservation goals.

Colorado is one of only two states that opted to petition the Forest Service for its own roadless rule, which limits road building and development on more than 4.4 million acres of the state's largely roadless national forest land.

Idaho, the only other state to go the Bush administration petition route, implemented a rule late last year that more closely paralleled a 2001 Clinton administration roadless rule.

State and national conservationists want to see a Colorado rule more in line with the 2001 rule because they say the new Colorado rule has too many exceptions for everything from logging to oil and gas development to ski-area expansion.


Comment on "Chu blows through Golden; lawmakers rock 'Renewablepalooza' in Denver; stalling state roadless rule" using the form below