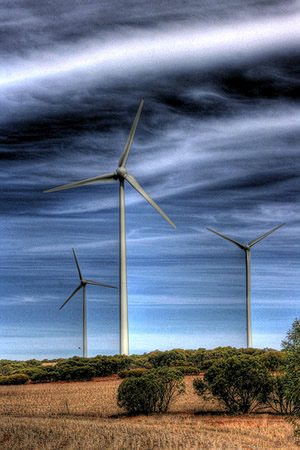 Blog Tools
Comments
PermaLink
The answer for Vail Resorts can't just be blowin' in the wind
By David O. Williams
April 30, 2009 — Vail Resorts is the state's top purchaser of renewable-energy credits (RECs), according to a recent report released by the U.S. Environmental Protection Agency, and the company ranks 25th in the nation.

In 2006, the Broomfield-based ski, hotel, retail and real estate company began purchasing enough wind credits to account for 100 percent of the electricity consumed at its ski areas and other properties in Colorado, California and Wyoming.

Computer-processor manufacturer Intel Corporation topped the list with 46 percent of its total consumption covered by REC purchases, or 1.3 billion kilowatt hours (kWh) of green power (defined by the EPA as electricity generated from renewable sources such wind, solar, biomass or small-scale hydro). By comparison, Vail Resorts' total consumption amounts to about 151.3 million kWh.

The EPA itself comes in at 14th on the list with 285 million kWh of REC purchases, or 100 percent of its consumption. Vail ranks behind heavy-hitters like Pepsi (2nd), the U.S. Air Force (8th) and Starbucks (18th), but ahead of retail giants like Staples (27th), Lowe's (32nd) and Safeway (36th).

REC purchases aren't embraced by all renewable energy advocates. Some say RECs allows companies to wantonly consume energy and buy offsets from the overall grid without directly contributing to renewable generation.

However, Vail Resorts CEO Rob Katz this past season engaged in an effort to reduce the company's overall energy consumption by 10 percent through a variety of efficiency initiatives. And the company has been researching and implementing a variety of renewable energy projects, from small-scale hydro using local streams to solar panels on ski-area buildings to biomass projects.

On the Western Slope political front, former six-term Republican congressman Scott McInnis, who used to represent the Vail area and has all but announced he intends to run for the governor's office in 2010, may be getting some payback for taking on the conservative base of the state party just before the 2008 election.

On Thursday, a conservative Web site called The Complete Colorado posted a link to an audio file of what an accompanying story claims is McInnis leaving a voice mail for a potential supporter in which he mentions GOP consultant Sean Tonner being on his team and doing a 527 issues committee on his behalf. McInnis confirmed the message was his to the Denver Post.

According to Colorado Ethics Watch, which Thursday announced it was launching an investigation, McInnis may be breaking Colorado election laws by coordinating campaign activities with a 527, as well as soliciting contributions and spending money without first registering a campaign committee with the Secretary of State.

McInnis, who did not return a message seeking comment, enraged some in the state Republican Party when he told RealVail.com in October that he would have been able to beat Democratic Sen. Mark Udall, who at the time was leading Republican contender Bob Schaffer by wide margins in most polls.

McInnis said the more conservative members of the state party derailed his own candidacy for the office, with Republican Party chairman Dick Wadhams handpicking Schaffer. McInnis said his more moderate views would have attracted a broader base of voters.

Wadhams and later former Gov. Bill Owens fired back that McInnis had his chance but withdrew for personal reasons and was further dividing the party by trying to rewrite history.

Tonner, as president of the Highlands Ranch-based GOP consulting group Phase Line Strategies, has a lengthy track record of working behind the scenes for oil and gas companies on political campaigns. Last April he registered as a Virginia corporation the Western Skies Coalition, which amassed a massive campaign war chest to back energy-friendly state Senate candidates and to combat severance tax increases on the ballot.

Owens, a former oil and gas industry lobbyist, was listed on the board of the Western Skies Coalition. In the voicemail message, McInnis reportedly says he has the support of the oil and gas industry in his gubernatorial run, and that Owens' daughter Monica and wife Frances are on board as well. Monica Owens, also an employee of Phaseline Strategies, worked on Western Skies Coalition campaigns with Tonner.



Comment on "The answer for Vail Resorts can't just be blowin' in the wind" using the form below