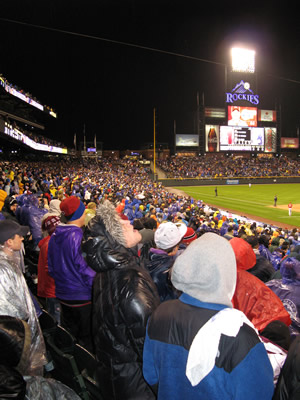 The 2007 Colorado Rockies (Coors Field shown here during the NLCS) should be awarded the World Series title from that year in the wake of former Red Sox star Manny Ramirez being suspended for performance-enhancing drug use.
By David O. Williams
Blog Tools
Comments
PermaLink
Red Sox 2007 title tainted by Ramirez drug suspension; Rockies should be awarded Series win
By David O. Williams
May 7, 2009 — In light of LA Dodgers' outfielder Manny Ramirez being suspended 50 games for using a performance-enhancing drug, the Colorado Rockies should be awarded the 2007 World Series championship won by the Boston Red Sox.

Because Ramirez has put up such ridiculous numbers at such an advanced stage of his Major League Baseball career, one has to assume he's been part of the Steroid Era of the national pastime that dates back to the early to mid-1990s. That includes his years (and two World Series titles) with the Sox.

Reports are that he was taking a female fertility drug used to come down after a regimen of steroids, although Ramirez says he was prescribed the drugs by a doctor for another medical condition.

Whatever, no one in the game was clean, apparently, as revelations of steroid use have now caught up to nearly all the biggest stars and heaviest hitters from that era, including Yankees' third baseman Alex Rodriguez, who was in Vail this spring to have his hip repaired by Steadman-Hawkins surgeon Marc Philippon.

If you recall, the Rockies in 2007 went on one of the most improbable winning streaks of all-time, taking 20 of 21 down the stretch just to reach the playoffs, then taking down the 2008 World Series champion Philadelphia Phillies in the division series and sweeping the Arizona Diamondbacks in the ALCS en route to the World Series. There they were unceremoniously swept by Ramirez and the rest of the big, bad Sox.

At the time, Johnny Come Lately Sox fans told me it was because the Rockies were a Triple-A team and the Sox were the real deal. Now I wonder just how real. Take a look at David Ortiz this season. The other big slugger in the lineup that swept the Rox is a shadow of his former self. Age catching up to him? Or maybe he's just off the juice

Regardless, Red Sox nation can laugh at the Dodgers (and suddenly the NL West looks a little more attainable even for the lowly Rockies this season) and all the salary and marketing money they've dumped on Manny, but to me his suspension also taints the titles that ended the curse of the Bambino.

8 Comments on "Red Sox 2007 title tainted by Ramirez drug suspension; Rockies should be awarded Series win"