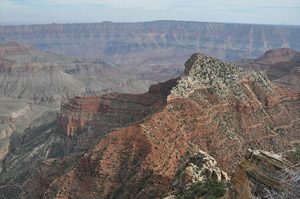 Blog Tools
Comments
PermaLink
Glowing about your recent Grand Canyon trip? Uranium mining could literally do the trick
By David O. Williams
May 27, 2009 — Nothing says Wild West, summer road-trip, vacation with the kids quite like dipping a gold pan in a chilly Rocky Mountain stream, taking a burro ride along a dusty mining trail, or sifting for fool's gold in a sluice box. But a new twist this summer could be rollicking in the yellow-cake uranium at one of eight new claims near the Grand Canyon.

Or how about zip lines between gas rigs in your favorite National Forest roadless area in Colorado? With families staying closer to home and exploring nature's wonders during the Great Recession — and giving the Heisman (i.e., the stiff arm) to the cruises and theme park visits of more affluent times — the opportunities to Disney-fy the wilderness around energy exploration are virtually limitless.

Even as the National Park Service this week was reminding summer vacationers of our nation's outdoor bounty, the Pew Environment Group was reminding Interior Secretary Ken Salazar of the energy-industry threats to that bounty. The nonprofit group fired off a letter requesting Salazar remove 1 million acres of public lands from consideration for new mining claims under the — do we have to even note that it's "antiquated"? — 1872 Mining Law..

The chairs of both the House and Senate natural resources committees have introduced bills this session aimed at reforming the law, which was originally signed by Ulysses S. Grant to encourage pioneers to head west with pickaxes in hand.

Pew has also joined a long list of environmental groups pushing for a development moratorium on more than 54 million acres of National Forest roadless areas nationwide and a return to the Clinton administration's roadless rule, first implemented in 2001 but quickly tossed out by the Bush administration. The return to the Clinton rule would block roads for new energy exploration and production on more than 4.4 million acres in Colorado.

Meanwhile, Henry Waxman, D-Calif., may not "have the nuts" to pass the American Clean Energy and Security Act (at least according to his GOP counterpart on the House Energy and Commerce Committee), but some Colorado environmentalists say the bill itself doesn't have the teeth it needs to truly transform America's energy infrastructure.

While being sure to carefully praise Waxman's bill (H.R. 2454) as the full committee takes up debate on it this week, Denver-based Environment Colorado also issued a release saying the draft legislation is too watered down to make the meaningful changes necessary.

"Unfortunately, Big Oil, Dirty Coal, other polluters have been able to weaken the bill in ways that will delay the economic and environmental benefits of clean energy and miss the opportunity to make a real transition in the nation's energy policy," said Keith Hay, energy advocate for Environment Colorado

Specifically, Hay said the renewable electricity standard in the draft version won't require the nation to use more renewable energy than what will be achieved through state standards already in place and investments from the stimulus bill.

Hay also said the bill allows polluters to purchase offsets rather than reduce their own pollution and that it falls short of requiring polluters to pay for their pollution through a carbon tax or cap-and-trade system. He urged Rep. Diana DeGette, D-Colo., who serves on the Energy and Commerce Committee that Waxman chairs, to push hard to strengthen and pass the bill.



2 Comments on "Glowing about your recent Grand Canyon trip? Uranium mining could literally do the trick"