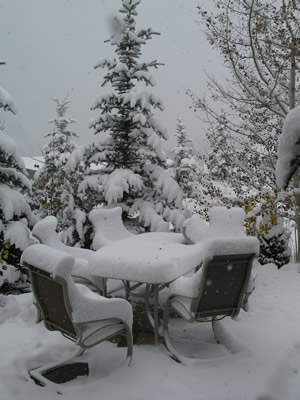 The West Vail patio cam reveals a winter wonderland Sunday morning, Oct. 21, including this partially buried dining set.
David O. Williams
Blog Tools
Comments
PermaLink
Rocktober snowstorm pastes Vail Valley
Sports fans hunker down as Rox find out their foe, Broncos save season
By David O. Williams
October 22, 2007 — Sunday in the Vail Valley was a perfect day to hunker down indoors and watch the Broncos save their season with a last-second field goal to top the Steelers and the Red Sox kick the snot out of the Indians to make the Rox-Sox World Series a reality.


That's because, starting about 6 p.m., Saturday, a fall snowstorm rolled through the northern and central Rockies and dumped about 8.5 inches of new snow on my deck in West Vail, which equates to a lot more up on Vail Mountain.


By mid-morning Sunday, Vail Resorts was reporting 8 inches and Beaver Creek was up to 9 inches, with snow continuing throughout the day until about nightfall, with temps hovering near freezing on the Valley floor. The other Colorado resorts owned by Vail – Keystone and Breckenridge in Summit County – were both reporting 5 inches of new snow by mid-morning.


Those totals are significant for the Summit resorts, allowing both to begin snowmaking operations in anticipation of simultaneous Nov. 9 opening days. Keystone kicks things off with 9 a.m. to 9 p.m. skiing, and the U.S Ski Team begins training on its dedicated Keystone facility Nov. 1.

Meanwhile, the two resorts that are actually open – Arapahoe Basin and Loveland – were reporting 7 inches and 5 inches new, respectively, on Sunday. Look for more terrain to open at both areas in the next couple of days.


And before Keystone and Breck get things going for the Vail family of ski areas, look for Copper Mountain to crank up its lifts a week earlier on Nov. 2, as well as Wolf Creek in southern Colorado on the same day. Listed as TBD, Silverton Mountain could also surprise with an early opening (see a new story on Silverton in our Real Travel section).


As for more fall snowfall, don't hold your breath this week. The WeatherReports.com 5-day forecast calls for a partly cloudy day Monday with highs in the upper 30s, but then things clear off and get downright toasty, with highs in the upper 50s by the end of the week.


Which means the next storm will probably roll through just in time for Game 3 of the World Series Saturday, Oct. 27, which I found out today I have tickets for. A little snow at Coors Field for the first World Series game in Colorado history would be fitting.


Comment on "Rocktober snowstorm pastes Vail Valley" using the form below