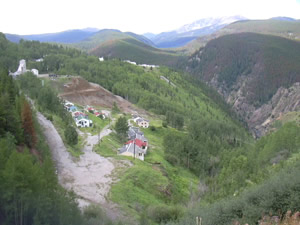 The old mining town of Gilman, just above Minturn, would be one of the redeveloped neighborhoods in Bobby Ginn's proposed Battle Mountain project.
By Tom Boyd
Blog Tools
Comments
PermaLink
New York Times dissects ongoing struggles of Ginn Company in Florida
By David O. Williams
May 28, 2009 — A year ago this time, Florida real estate developer Bobby Ginn was celebrating a big victory at the polls in the tiny former mining and railroad town of Minturn, where voters had cleared the path for his proposed Battle Mountain private ski and golf resort.

Now that project off the backside of Vail Mountain is stalled as Ginn battles to keep his crumbling golf resort empire in Florida afloat.

In a lengthy business story in The New York Times on Saturday, Ginn said he remains optimistic despite plummeting sales that have forced some of his resorts into bankruptcy and led to a slew of lawsuits:

"Mr. Ginn says his remaining properties will eventually pay off. 'My belief is that when the depression ends, there will be a pent-up demand for happiness,' he said in an interview at his offices at the Hammock Beach Resort near Daytona Beach. 'Sometime between 2035 or 2040, Florida will double in size.'

"In the meantime, he faces dozens of lawsuits from angry investors alleging that his companies used deceptive and misleading trade practices in representing the demand for and value of his properties. 'We will vigorously defend against these false allegations,' Mr. Ginn said."

Meanwhile, Minturn, which for years has struggled for infrastructure funding in the shadow of nearby resorts in Vail and Beaver Creek, remains in limbo. Likewise, other areas around the Rocky Mountain West -- such as Tamarck in Idaho and the Yellowstone Club in Wyoming -- where Credit Suisse-financed ski and golf resorts formerly held so much promise.


Comment on "New York Times dissects ongoing struggles of Ginn Company in Florida" using the form below