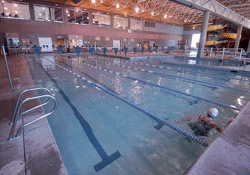 The Avon Recreation Center pool will be heated with energy from wastewater treatment using an innovative new program scheduled to go online in 2011.
Courtesy of the Town of Avon
Blog Tools
Comments
PermaLink
Avon, water district deserve kudos for working out differences on wastewater heat exchange plan
By David O. Williams
June 2, 2009 — An innovative system designed to use heat generated from wastewater treatment to melt snow and heat several Town of Avon facilities, including the recreation center pool, is back on track after the town struck a deal with the local water district last week.

In danger of losing a $1.5 million "New Energy Communities" grant from the Governor's Energy Office because of disagreements over lease lengths and funding commitments, the town and the Eagle River Water and Sanitation District finally worked out all the kinks and signed an intergovernmental agreement.

Town officials were concerned about committing $2.5 million to the project without a 40-year lease, but water district officials wanted a 20-year lease in case technology upgrades made the system obsolete. The two parties agreed to a 20-year term, and construction is expected to begin in the spring of 2010, with completion by June of 2011.

The Avon Heat Recovery Project will return cooler treated water to the Eagle River, while heating the Avon Recreation Center pool, the district's wastewater treatment facility and providing heat to the town's snowmelt system for its proposed Main Street pedestrian mall. Wind credits purchased through Holy Cross Energy will power the system, resulting in a near-zero carbon footprint, according to officials.

All parties deserve kudos for making this innovative project happen, and Avon Town Councilman Brian Sipes has proposed taking it a step further by installing pipes beneath the new Main Street development in order to circulate hot water from a centralized biomass power plant that would run on wood chips from surrounding forests ravaged by a mountain pine beetle epidemic.

Shops, hotels and office buildings could then tap into that system for radiated hot-water heat that could replace electric and natural-gas heating systems. This is the kind of progressive thinking and innovative energy policy we should all be coming up with in the Vail Valley.

Then perhaps the rest of the Western Slope won't have to become a little slide of New Jersey. Case in point, Battlement Mesa along I-70 between Rifle and Grand Junction.

It's a valid question: If you retired to Colorado's sunny Western Slope for the laid-back mountain lifestyle but bought into a community purpose-built for workers during the oil shale boom of the 1980s, should you be shocked when drilling rigs sprout like pinon pines in your neighborhood?

Battlement Mesa residents are grappling with that question these days after Denver-based Antero Resources recently struck a deal to drill up to 200 gas wells from 10 pads right in town — some within a few hundred feet of homes and the municipal golf course.

According to the Aspen Daily News, that has some residents of the former Exxon company town along I-70 crying fore — or at least foul –- despite some extraordinary measures Antero is willing to take to hide, disguise and otherwise mitigate visual, auditory and odiferous impacts.

Antero officials said they will sink well pads and surround them with vegetation, shroud derricks, and cover holding tanks full of noxious chemicals, but that may not be enough for some residents, according to the News:

"I don't mind them being around but that's getting a little too close to home as far as I'm concerned," resident Mike Misek told the News. "It's lit up at night like it's Christmastime."

Jeanie Hoffman said she worries fumes from gas drilling has contributed to her asthma and two bouts with cancer.

"When I got here I loved it," said Hoffman, who moved to the community in 1995, before the recent rush of gas drilling. "Now I hate it, but I'm stuck here."

The Battlement Mesa plan represents the first real test of the state's new, more environmentally stringent drilling regulations, and also demonstrates industry's willingness to operate under the new rules despite its ongoing legal challenge of the regs.



Comment on "Avon, water district deserve kudos for working out differences on wastewater heat exchange plan" using the form below