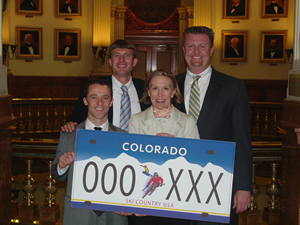 Backers of the proposed skier vanity plate are, left to right: Ari Stiller-Shulman of Colorado Ski Country USA, Sen. Dan Gibbs, CSCUSA CEO Melanie Mills and Brent Lessing, Hertz Corporation's Southwest Region General Fleet Manager.
Courtesy of Colorado Ski Country USA
Blog Tools
Comments
PermaLink
Ritter bugs out, signs beetle bill, Colorado 'snowboarder' license plate at A-Basin
By David O. Williams
June 5, 2009 — Picture a scenario sometime after 2010 where — if Gov. Bill Ritter is reelected and the Dems keep control of the statehouse — we'll all be driving plug-in hybrids that run on a mix of ethanol and ground-up bark beetles, with tiny snowboarders emblazoned on our license plates.

It's a nightmare vision for most right-wingers, straight out of the Shangri-La they sneeringly refer to as the "People's Republic of Boulder," but it's a little closer to reality today after Governor Renewable signed House Bill 1331, which provides state tax incentives for high-tech, fuel-efficient vehicles.

Wednesday, Ritter was at Arapahoe Basin ski area in Summit County (still open for skiing – and snowboarding — until Sunday), where he signed House Bill 1199, which makes about $3 million available to communities threatened by wildfire as a result of the massive mountain pine bark beetle epidemic (arguably exacerbated by global warming).

Ritter also signed a bill authorizing a new ski-themed license plate for the state, markedly different from other skiing state plates because ours includes a skier and a snowboarder (despite occasional slope rage involving the two forms of snow riding). State Sen. Dan Gibbs, D-Silverthorne, one of the bug bill sponsors, said he'd prefer a telemark skier.

Gibbs and state Rep. Christine Scanlan, D-Dillon, House sponsor of the beetle bill, also announced at A-Basin that they've finally picked up some national buzz on the bug front, with two U.S. House subcommittees set to hold hearings on the voracious, rice-sized insects on Capitol Hill June 16.

Tough financial times and all, that may result in some more desperately needed federal funds to thin forests and create incentives for businesses to deal with more than 2 million acres of dead trees – perhaps even use them for biomass energy.

Gibbs and Scanlan were two of only three Western Slope lawmakers to get perfect "100" scores in the "Conservation Scorecard 2009," released today by Colorado Conservation Voters. The other was Gail Schwartz, D-Snowmass Village.

The lowest Western Slope score for her voting record on environmental legislation? Laura Bradford, R-Colbran, who took down popular Democrat Bernie Buescher in bright-red Grand Junction last November.


Comment on "Ritter bugs out, signs beetle bill, Colorado 'snowboarder' license plate at A-Basin" using the form below