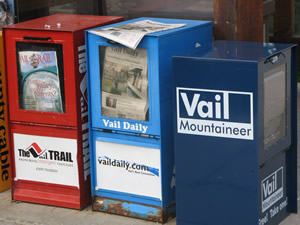 Old school for sure, but still the preferred method of delivery for some die-hard tree-haters.
By David O. Williams
Blog Tools
Comments
PermaLink
Vail Mountaineer grudgingly joins Internet Era, but won't actually post any news
By David O. Williams
June 12, 2009 — The Colorado newspaper that leads the field in front-page stories about itself uncorked a doozy on Thursday, announcing that nearly a year after first launching its print version last June the Vail Mountaineer was grudgingly joining the online community.

But, the paper owned by the publisher of the Denver Daily News will not actually post any breaking news on its site in order to force readers to pick up the print version and read all the ads in between the stories.

The Mountaineer will post PDF versions of the actual printed pages – a bit cumbersome for online readers – but that's about it.

"The publishers of the Mountaineer fully understand the importance of online news and advertising, but desperately want the industry to think twice about the current road to ruin," Editor John LaConte wrote under the headline "Pigs Fly in Cyberspace."

"The magic of the printed paper is the unique synergy between news and ads — people pick up papers for both reasons and most read …More [that's right, an old-school newspaper jump online, but in mid-sentence] … both news and ads. Publications have yet to achieve this synergy."

As long as the Mountaineer is rolling back the clock on this whole annoying trend of Web publishing, online-only publications would like to encourage the entire industry to follow the paper's lead. And while they're at it, maybe the Mountaineer could go back to say 1972 and start charging for their paper in racks and at news stands.

Talk about your roads to ruin.


2 Comments on "Vail Mountaineer grudgingly joins Internet Era, but won't actually post any news"