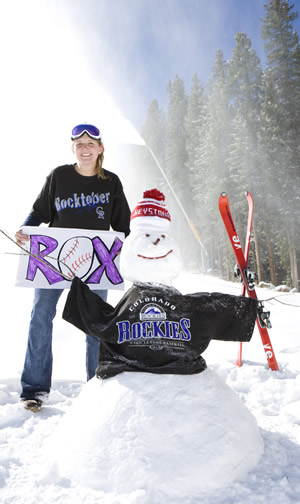 Leisa Gibson of Keystone resort shows her Rocktober spirit on the snowy slopes of the Summit County ski area, which opens for business Nov. 9.
Courtesy of Keystone
Blog Tools
Comments
PermaLink
Rockies named for a mountain range – with killer skiing
Sox named for something slightly odiferous you cover your feet with
By David O. Williams
October 24, 2007 — My dreams have all been realized. The Dr. Seuss Series has become a reality (Rox versus Sox on FOX), and two Colorado ski areas are open for business, with excellent pre-Halloween conditions.


Now the cogs of the great Colorado ski industry marketing machine are spinning into serious action like the movement on a Manny Corpas fastball. The state's $2.6 billion ski industry (second only to agriculture), which captured nearly a quarter of all skier days nationwide last season, is poised to pounce on an unsuspecting baseball-viewing public (see story in Real Biz).


Granted, many of the fans of ball sports, particularly the couch-bound lard butts who make up the Red Sox Nation, haven't been near a ski slope in years. You wouldn't bother either if you lived back East in the land of icy, dicey molehills they call ski areas.

Vail's biggest destination market by far is New York, so we would have been much more psyched – at least from a marketing standpoint – with a Yankees-Rockies matchup. But you have to figure a few sports fans in New England can come out of their Tom Brady-worshipping, beer-swilling fog long enough to see how stellar the skiing is out here.


And if they haven't spent all their money on Man-ram and Big Papi T-shirts, maybe a few Sawx fans can get out of the neighborhood for a few days to check out the most awesome part of the country – the home of the soon-to-be world champion Colorado Rockies. Be warned, though, Sawx fans, mouth breathing can be hazardous at high altitudes.


Sorry Sox Nation, you're just starting another 86-year drought and you don't even know it. But we won't hold that against you when you come out to here to ski this winter. Go Rox!


Comment on "Rockies named for a mountain range – with killer skiing" using the form below