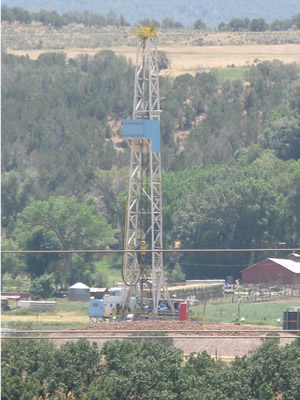 Blog Tools
Comments
PermaLink
Despite downturn, debate rages on impacts of gas drilling on Western Slope
By David O. Williams
July 7, 2009 — A series of key state and county meetings on a variety of controversial natural-gas drilling issues will take place this week and next in Garfield County, the epicenter of an energy boom on the Western Slope for most of the last decade.

Starting with a Garfield County commissioners meeting in Glenwood Springs Monday, Battlement Mesa – a former oil-shale boom town built in the 1970s to house Exxon workers – will be in the spotlight this week because of plans by Denver-based Antero Resources to drill up to 200 wells within the boundaries of the unincorporated community.

The commissioners on Monday were being asked to reaffirm their authority to review well permit applications in the area by Antero, which leased the mineral rights from ExxonMobil and now wants to drill within a few hundred feet of the local golf course and some homes in the community of 5,000.

Normally the purview of the Colorado Oil and Gas Conservation Commission (COGCC), the permitting process for Battlement Mesa drilling appears to be subject to a major impact review under new county land use regulations and because the county retained its regulatory authority under its original planned unit development (PUD) approval in the 1970s.

Opponents of Antero's drilling plans said one of the commissioners appeared to be wavering on whether the county had the authority to impose conditions or even deny drilling in Battlement Mesa. But on Monday the commissioners confirmed they will fully review Antero's plans for Battlement Mesa.

On Wednesday the COGCC will convene a special meeting on the drilling impacts in Battlement Mesa from 6 to 9 p.m.

The following week the COGCC will hold two days of meetings at the Hotel Colorado in Glenwood Springs, with the commission's regular business reportedly taking up at least part of the first day, followed by special meetings on two controversial topics.

One of those topics is how close to a 1960s nuclear blast zone near Rulison drilling should occur. Residents are worried about hydraulic fracturing — or the process of injecting wells with water, sand and chemicals to free up gas – too close to a 40-acre area that may still be contaminated with radiation.

The other hot-button issue is a gas seep into Divide Creek south of Silt in 2004 that led to a record-breaking fine against EnCana Oil and Gas and a since-expired moratorium on drilling in the area that some would like to see reinstated.

While the seep was determined to be the result of faulty concrete work, the process of hydraulic fracturing remains controversial and is the subject of proposed federal legislation that would remove an exemption under the Safe Drinking Water Act.


Comment on "Despite downturn, debate rages on impacts of gas drilling on Western Slope" using the form below