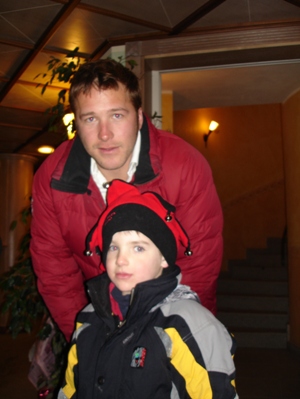 Bode Miller, pictured here with the author's son, Nicholas, at the 2006 Winter Olympics in Sestriere, Italy, says he will race in Sunday's World Cup season opener in Austria despite a lingering back injury.
Blog Tools
Comments
PermaLink
Bode the only New Englander not currently en fuego
By David O. Williams
October 26, 2007 — Just about the only New England superstar athlete who isnít red-hot these days is Bode Miller, ski racingís bad boy who long ago should have captured multiple overall World Cup wins, at least one Olympic gold medal and the all-time victory record for an American Ė if he cared about such things.


But in what used to be a typically self-deprecating and genuinely us-against-them mindset (remember, Red Sox Nation secretly used to revel in the Curse), Miller could give a ratís ass about the Olympics (witness his boozehound ways in Torino) or overall World Cup wins (he trails Phil Mahre 25 wins to 27 and one overall title to three).


If Bode is going to win, itís going to be his way or the highway, so he broke away from the U.S. Ski Team in the offseason and has been training on his own, which resulted in a back injury that almost kept him out of the season-opening giant slalom in Soelden, Austria, Sunday Ė a race heís won twice (see story in Real Sports).


Bode will race, but hasnít been able to train much due to the injury and isnít among the favorites. Heís merely continuing a downward spiral that began after a hot start to last season, and the New Hampshire native seems largely unfazed by his lack of results during his peak racing years.

Remember when the Red Sox had the same attitude? When the Idiots broke the curse by being idiots? Now theyíre just an overpaid machine. The Sox have one pitcher (Dice-K Matsuzaka) who cost Boston twice as much as the entire Rockies payroll.


Dice-K pitches tomorrow night against a typical Colorado overachiever, Josh Fogg, in Game 3 of the World Series in Denver, which will feature the Rockies coming home to recapture their Mile High mojo (I hope). Itís a game I will attend and blog about, so look for that Saturday at some point.


I have faith in Boston coming down to earth because the Sawx arenít comfortable in their role as a dynastic powerhouse. They have to have dirt being kicked on them in order to feel good about the no-respect ďNation.Ē


Even the Patriots, who used to regularly get pounded by the Broncos before becoming a corporate, cookie-cutter model of domination, had to introduce ďSpy-gateĒ in order to get that us-against-the -world chip back on their collective shoulders.


If you think about it, New Englandís ever-the-underdog attitude makes sense. It all started with the Boston Tea Party.


Comment on "Bode the only New Englander not currently en fuego" using the form below