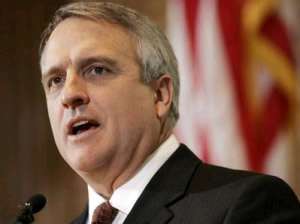 Blog Tools
Comments
PermaLink
Oil-thirsty lawmakers in Washington eye an increasingly endangered Colorado River
By David O. Williams
July 26, 2009 — Maybe if the Colorado River flowed through Oklahoma –- a feat geographically challenged Colorado Republicans like Scott McInnis and Bob Schaffer could probably pull off given their penchant for relocating mountain ranges -– then Sen. James Inhofe, R-Okla., wouldn't be so hot to develop oil shale.

Inhofe, part of a partisan ambush of Democratic Gov. Bill Ritter last week during the guv's testimony before the U.S. Senate's Environment and Public Works Committee, apparently hadn't read a recent University of Colorado report on the dire condition of the Colorado River if current drought conditions and usage patterns continue. In these parts we sort of enjoy the river for things like fishing and boating.

The new CU study published in the American Geophysical Union journal Water Resources Research found that reservoirs along the 1,450-mile lifeline of the American Southwest could be fully depleted by the middle of the century if current conditions persist (they're right now at just 59 percent of capacity). Pressure on the river is exacerbated by unprecedented energy production over the past decade.

Inhofe questioned why Ritter was on hand to tout green energy jobs in Colorado when the state is sitting on so much undeveloped oil shale. But numerous studies have indicated full-scale commercial oil shale production could suck the river dry. Even industry officials have acknowledged the thirsty nature of the extraction process, which at minimum will require two to three barrels of water per barrel of oil produced.

Oil and gas companies since the 1950s have been acquiring water rights in the Colorado River drainage – senior rights that could preempt agricultural and recreational users on the state's Western Slope (like snow-making for ski areas) if and when oil shale ever moves into full-scale commercial production.

Ritter called out Inhofe and other Republican members of the U.S. Senate's Environment and Public Works Committee for what he called a very partisan approach to the debate on climate change legislation and new energy versus traditional energy jobs.

After testifying along with three other governors during a hearing titled "Clean Energy Jobs, Climate-Related Policies and Economic Growth: State and Local Views," Ritter said in a conference call with reporters that the tone of the conversation on Capitol Hill caught him off-guard.

"The Senate committee hearing, and it's probably something Sen. [Mark] Udall is more used to than I am, but it was a very partisan deal," Ritter said, referring to the Colorado Democrat who joined him on the conference call. "When the western governors meet to talk about climate and energy, there's very strong bipartisan support for addressing these two issues together."

Udall took the opportunity to back up Ritter's comments and take a dig at his fellow senators on the other side of the aisle. "I take my cues from the western governors and will continue to find bipartisan solutions here, and there are plenty of them frankly," he said.

Ritter specifically responded to Inhofe:

"One of the things [Inhofe] said was, 'How can you be here when you have such significant oil shale deposits?'" Ritter said. "We very much support the [research and development] projects in the northwest part of the state where there's vast deposits of oil shale.

"But until somebody can tell me that there's a technology that protects our groundwater and air… and we know what level of energy is necessary just to produce a material that can be extracted in a conventional fashion, I don't believe we should be writing the rules for commercial leasing."

Ritter was referring to Bush administration midnight rulemaking to set royalty rates and oversight regulations for an industry that is very much in its nascent stages of development and could be decades from producing commercially viable amounts of oil. Udall concurred with Ritter on the oil shale issue, adding all forms of energy must be pursued.

"The governor and I both believe that you've got to do it all and there's no silver bullet," Udall said. "There may well be silver buckshot, but to make a bet, as Sen. Inhofe suggests, just on oil shale is one that right now's unlikely to pay off in the ways that we need for it to pay off."

Asked about the American Clean Energy and Security Act, or so-called Waxman-Markey bill named for its key House sponsors, Ritter said it needs to acknowledge the cleaner-burning potential of natural gas. Udall agreed, and added that he'll work on that aspect of the Senate version of the bill, as well as push for a higher renewable electricity standard than what the House passed.

"I believe [Waxman-Markey] gives short shrift to natural gas," Ritter said. "There's one mention of natural gas if my memory serves me, and it is about a research project for conversion to natural gas [transportation] fleets. There should be far more done with natural gas and incentivizing the production of natural gas because it's such a cleaner burning carbon fuel."

Ritter has taken some heat lately for going to bat for the state's natural gas industry, especially on the topic of legislation being pushed by U.S. Rep. Diana DeGette that seeks to remove an exemption under the Safe Drinking Water Act for the gas drilling process called hydraulic fracturing.

Ritter supports more research on the issue before turning it over to federal oversight.


Comment on "Oil-thirsty lawmakers in Washington eye an increasingly endangered Colorado River" using the form below