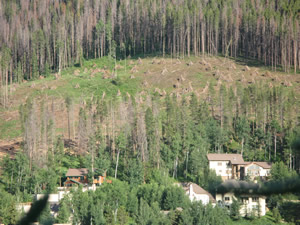 Beetle-kill slash piles on the hillside above Vail's Matterhorn neighborhood. Right now such slash is simply burned during the winter, but a biopower plant could turn it all into energy.
By David O. Williams
Blog Tools
Comments
PermaLink
Credit where credit is due: Vail Town Councilman Gordon gets biopower ball rolling again
By David O. Williams
August 3, 2009 — In my most recent article on Vail's quest for a biopower plant that would sit on town land at Buzzard's Park and consume chipped up lodgepole pine trees killed in the ongoing beetle-kill epidemic, I neglected to give kudos to Vail Town Councilman Mark Gordon, who first put a bug in my ear about this project last winter.

Gordon deserves a lot of credit for resuscitating this concept and getting the right people – like paper-products heavyweight Andrew King of Connecticut – involved. Now the town is onboard with Sen. Mark Udall, the Denver Water Board and the U.S. Forest Service in supporting King's $30 million grant request to the Department of Energy.

This is far from a done deal, but it's certainly picking up steam, and it's not too hard to envision one day turning thousands of acres of rust-red and long-dead trees into hot-water heat for lodges and street snowmelt systems in town, as well as producing electricity and selling it to the local co-op, Holy Cross Energy. It's a project that, according to one solid source, tells me "pencils well" and could provide a working model for hundreds of similar projects around the country.

Of course, the Euros, as usual, are way ahead of us on this one. It was former Vail Mayor Ludwig Kurz who first broached this possibility several years ago. Originally from Salzburg, Austria, Kurz started the sister-resort relationship between Lech, Austria (known as the Aspen of Europe), and Beaver Creek. He has led several trips to Lech, where local officials have been wowed by that resort's working biomass plant.

What's interesting is that Kurz is rumored to be considering running for Vail Town Council again having sat out the requisite four years after leaving office due to term limits. So we could see dueling biomass power plant campaigns since Gordon has said he will run for re-election in November.

Regardless of who gets credit, this thing needs to happen. It would be a huge feather in our cap as a resort increasingly known for trying to offset its massive carbon footprint through creative green initiatives. We could become a true eco-tourism destination.

And apparently King (whom I have yet to drop a line to but declined an interview request from the Vail Daily) is the paper-products pit bull who's making this thing happen, hopefully taking advantage of the perfect storm of stimulus money and new-energy impetus from the Obama administration.

If I only paid a little closer attention to comments on my own site, I'd have seen his name mentioned after a February article I posted on the subject. But just to show the level of national interest in the project, the Huffington Post linked to my most recent story, which first appeared on the Colorado Independent, for whom I am the Western Slope energy correspondent.

Conspicuously absent from the list of supporters in the most recent round of stories is Vail Resorts, which continues to sit quietly on the sidelines, declining public comment until there is evidence of public support for the project.

Vail Resorts is one of the largest buyers of wind credits in the nation but backed away from actually investing in wind-energy production by installing turbines atop Vail Mountain. Biomass represents a chance to jump into the alt-energy game in a big way.

The ski and real estate company last week announced a green initiative to dramatically reduce its $1-million-a-year annual paper budget, but for now will keep printing trail maps skiers and snowboarders can stash in a coat pocket, according to the Vail Daily.

The state's biggest ski company — owner of Beaver Creek, Breckenridge, Heavenly (Calif.), Keystone and Vail — has been on a major enviro-tear the last few years, becoming the 25th largest buyer of wind energy credits in the nation, announcing a billion-dollar green-built (LEED-certified) base village called Ever Vail and dramatically chopping its power consumption.

Aspen Skiing Company officials have been more vocal and politically active on the global-warming front, testifying before Congress and backing green candidates in local rural electric co-op board of directors elections, but Vail has been making major strides under the fairly recent tenure of CEO Rob Katz.

Last year Katz announced "energy layoffs" aimed at reducing by 10 percent the $25 million per year the company spends on energy. Last week he announced the company cut energy consumption by 6.1 percent in the previous year and was on track to meet the 10-percent goal in the coming year. That initiative is far more meaningful than buying wind credits, according to Aspen-based energy consultant Randy Udall.

Vail Resorts did make somewhat of a political statement last year by contributing $500,000 to the Democratic National Convention in Denver but nothing to the Republican National Convention in Minneapolis. But biomass may be the biggest green statement the resort could make to date, because it's a chance to offset the extremely power-intensive and somewhat environmentally dubious process of street snowmelt.

And biomass is one of literally hundreds of alt-energy projects coming online every week.

Cow excrement is a proven power source, with a New York company planning to build a $30 million biogas plant in Weld County next year to sell electricity to Xcel Energy, according to The Denver Post.

Now pond scum (algae, to be more precise) is on the cusp of making it as a commercially viable source of oil, according to the Durango Herald. A company growing algae on the Southern Ute reservation in southwest Colorado hopes to produce 2,000 to 2,500 gallons of oil per acre a year.

"We are growing algae and producing oil," Solix Biofuels Inc.'s CEO Douglas Henston told the paper. "We hope that the transition of the platform to a large-scale, commercial production is right around the corner."

So why not tap into urine? That's a question posed by researchers quoted by The Daily Green blog:

"The basic idea here is time-honored electrolysis. It works like this: A molecule of urea (a big part of urine) has four atoms of hydrogen and two of nitrogen. Messy and smelly as it might be, you can attach a nickel electrode to your basic urine pool and produce hydrogen gas to power the world's fuel cells. Farms could double as energy generators: Unlike us, cows and pigs don't move around so much (especially when they're factory farmed) so the urine is easy to collect.

"Professor Geraldine Botte of Ohio University is working on the technology in miniature, but thinks it could be scaled up for commercial applications. According to a Discovery account, 'A fuel cell, urine-powered vehicle could theoretically travel 90 miles per gallon. A refrigerator-sized unit could produce one kilowatt of energy for about $5,000 [a rough estimate].'"

Seriously, cow pies, pee, algae, beetle-killed trees. It all should be on the table these days, and the massive enviro-degradation of oil shale production should be off the table once and for all, unless it can be proven to consume dramatically less water and conventional power.


1 Comment on "Credit where credit is due: Vail Town Councilman Gordon gets biopower ball rolling again"