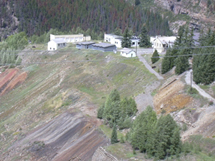 The old mining town of Gilman is part of the proposed Battle Mountain ski and golf project, which may be merging with Cordillera.
By Tom Boyd
Blog Tools
Comments
PermaLink
Kobe-llera, Ginn-turn could merge under plan to morph Battle Mountain into Cordillera Mountain
By David O. Williams
August 12, 2009 — Two of the most notorious nicknames in Colorado high-end luxury resort history may converge in a bid to bolster both struggling projects.

Cordillera, a residential golf community above Edwards, is in talks with the owners of the proposed Battle Mountain private ski and golf resort off the back side of Vail Mountain, according to a letter sent to Cordillera owners detailing future expansion plans.

Cordillera would participate in the proposed 1,700-home project and could lend its name in a re-branding effort. Both the new "Cordillera Mountain" project and the existing Cordillera community -– with four golf courses in the Vail Valley -– share a major financial partner: Philadelphia-based real estate investment company Lubert-Adler.

Lubert-Adler is a longtime backer of Florida-based developer Bobby Ginn, whose Ginn Company first purchased the Battle Mountain property and has been working through the annexation and approval process with the town of Minturn for several years.

That led to the nickname Ginn-turn, a sneering jab by some locals who feel the struggling former railroad town off the back of Vail Mountain has sold its soul to the Florida developer.

Cordillera, where sales have lagged dramatically in recent years -– along with the rest of the mountain real estate market -– got the nickname Kobe-llera when NBA superstar Kobe Bryant was charged with sexually assaulting a young female worker at the Lodge & Spa at Cordillera in 2003. Charges were later dropped.

Rumors have been swirling about the Ginn Company's ability to move forward with Battle Mountain given its problems in Florida, where several of its golf communities have gone bankrupt. The project won a huge annexation vote just last year, but has since languished in legal and financial limbo.

Under the heading "Future expansion 2010 to 2020," a prospectus included with a July 30 Cordillera letter to its owners expresses interest in the "fully integrated real estate ski resort" of Battle Mountain: "We are in discussions to participate in the development of this project and have talked about the idea of renaming the mountain 'Cordillera Mountain.'"

The document details the potential purchase of between 200 and 250 Cordillera golf club memberships by Lubert-Adler to entice Battle Mountain buyers. In exchange, Cordillera would locate its "Cordillera Mountain Lodge" and "Cordillera Mountain Club" in a prime slope-side location at the private ski mountain between Minturn and Red Cliff. –- parts of which are an EPA Superfund Cleanup site due to past mining in the area.

"Membership demand will increase over the next several years," reads the pitch to induce non-golf club members who own homes at Cordillera to buy now. "It is our expectation that the new real estate development in the Cordillera community and the affiliation with Battle Mountain will create a significant demand for Cordillera memberships."

Many in Minturn may see this as a positive step given the slow pace of the Ginn Company project and what some perceive as broken promises for badly needed town infrastructure projects. Town officials told the Denver Post in June that if the project changed ownership it would not need to go through a new annexation negotiation.

Comment on "Kobe-llera, Ginn-turn could merge under plan to morph Battle Mountain into Cordillera Mountain" using the form below