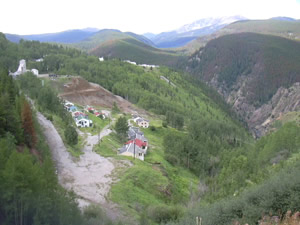 Private skiing and golf between Minturn and Red Cliff? Maybe someday, maybe with the Ginn Company, maybe with Cordillera, maybe with some other unnamed developer. The only certain thing about the proposed Battle Mountain project is its uncertainty.
By Tom Boyd
Blog Tools
Comments
PermaLink
Ginn, Cordillera issue lukewarm denials about pending deal on Battle Mountain
So why the oversell on merger in a mailer to Cordillera homeowners to get them to buy memberships?
By David O. Williams
August 13, 2009 — Denials were flying like errant tee shots Thursday on various blogs and in the Vail Daily concerning our report Wednesday that Cordillera, the Ginn Company and Philadelphia real estate investment firm Lubert-Adler were in talks to merge two massive Vail Valley projects.

In a Vail Daily story, both a Ginn spokesman and a Cordillera representative said talks about merging the proposed Battle Mountain private ski and golf community near Minturn and the existing Cordillera residential golf resort near Edwards were very preliminary and nothing was imminent.

That's odd given this language in a mailer sent out by the new Cordillera ownership to homeowners who aren't club members July 30 to get them to buy memberships:

"We are in discussions to participate in the development of this project [Battle Mountain] and have talked about the idea of renaming the mountain 'Cordillera Mountain.'"

The document goes on to detail Lubert-Adler's potential purchase of between 200 and 250 Cordillera golf club memberships to entice Battle Mountain buyers, and it states that in exchange, Cordillera would locate its "Cordillera Mountain Lodge" and "Cordillera Mountain Club" in a prime slope-side location at the proposed private ski mountain between Minturn and Red Cliff.

"Membership demand will increase over the next several years," reads the pitch. "It is our expectation that the new real estate development in the Cordillera community and the affiliation with Battle Mountain will create a significant demand for Cordillera memberships."

So if this was just a quick conversation over a cup of coffee, why this level of detail in a document meant to get Cordillera homeowners to buy club memberships before they get priced out by the pending Battle Mountain deal? Seems like a bit of an oversell if the whole thing was just a "preliminary conversation."

Florida real estate blogger Toby Tobin took note of our report as further evidence of the unraveling of "GINNdom" — his term for the former golf-resort empire, mostly in the Southeast, of Battle Mountain developer Bobby Ginn.

Here's First Tobin's take:

"Ginn's late 1990s rebirth in Florida gained headway when he became financially wedded with [Philadelphia-based real estate investment firm Lubert-Adler]. Now the marriage is on the rocks. The GINNdom is unraveling. Ginn no longer operates the several communities and resorts. Lubert-Adler brought Reynolds Communities, Noble Investments and others in as the new operators. Two South Carolina communities, Cobblestone Park near Columbia and RiverTowne near Charleston reportedly are under contract with new buyers.

"Now, Lubert-Adler [also a Cordillera investor] appears to be bringing its two troubled Vail area investments together. Will two wrongs make a right? Or will it take three?"

And here's Ginn Company spokesman Ryan Julison's response to Tobin's post:

"We are not currently in discussions with Cordillera regarding any merger or partnership. However, we have had conversations with numerous parties who are interested in being part of this development and we will continue to do so in the future. Our primary focus is working with the Town of Minturn and other regulatory agencies to continue to move this project forward."

That's a bit different from what he told the Vail Daily:

[Ginn spokesman Ryan] Julison said the Ginn Company has had "very preliminary" discussions with both Cordillera and other potential partners in the Battle Mountain project.

"For now, we're just focused on working with the town of Minturn and getting the required approvals," Julison said.


1 Comment on "Ginn, Cordillera issue lukewarm denials about pending deal on Battle Mountain"