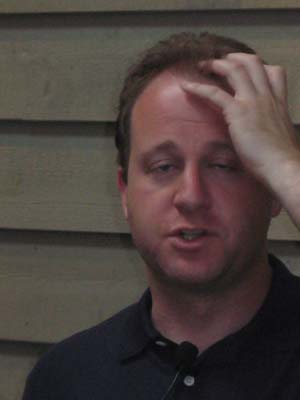 U.S. Rep. Jared Polis looked like he was in need of some health care in Edwards Wednesday evening during a contentious debate on reforming the system. But he stayed calm and on-point, coping nearly as well as he did on the "Colbert Report" Monday.
Blog Tools
Comments
PermaLink
Polis impressive in dealing with both town-hall, health-care grilling and Stephen Colbert
By David O. Williams
August 21, 2009 — Apparently somebody forgot to tell the Denver Post that Stephen Colbert's "Colbert Report" on Comedy Central is satire.

Initially acknowledging the "TV funnyman" is a "mock-conservative," the Post then actually bothered to fact check his "Even Better-er Know a District" segment profiling Colorado's "Fighting Second" Congressional District and its freshman Rep. Jared Polis.

The Post pointed out that in his intro piece leading up to the Polis interview, Colbert inaccurately depicted grizzly bears as part of the state's fauna, even though "grizzlies haven't been common in Colorado for a century; nor can Boulder be seen from the ski slopes at Vail 115 miles away, as the research-challenged comic declared."

Uh, here's more news for the Post: except in beer commercials, we don't actually have giant volleyball players spiking over the Continental Divide.

As for the interview itself, some of the best stuff came when Colbert grilled Polis on being the first openly gay man to be elected to Congress, satirically wondering if it was a ploy to get elected in a liberal district.

Polis pointed out being gay isn't a choice, which led Colbert to respond that he chooses to be heterosexual because, "I love the ladies," and it would have been "a breeze" to love men because he knows what men like. Men, in the Colbert Nation anyway, love to do beer bongs and other guy stuff (Polis joined Colbert in funneling a Coors Light).

As for the notion that being gay would earn votes in CD2, which extends from Boulder to the more conservative western reaches of Eagle County, that satirical stretch was tested Wednesday when Polis conducted a health care town hall in Edwards –- what even the politically conservative Vail Mountaineer Wednesday called "the lunatic fringe" of Polis's diverse district (see our coverage in Real News).

But now after Polis's memorable turn on "The Colbert Report," some people may fear avalanches at Colorado ski areas. Colbert likely got the marketing types at Vail, Beaver Creek and Copper Mountain excited with his opening-segment mention, in which he pretended to bound down the slopes of Vail on skis. But they may have been less psyched when he closed by pretending to trigger a massive (mock) avalanche.

Polis dealt well with the avalanche of criticism for health-care reform Wednesday, just as he showed good humor in playing it straight on "The Colbert Report."

1 Comment on "Polis impressive in dealing with both town-hall, health-care grilling and Stephen Colbert "