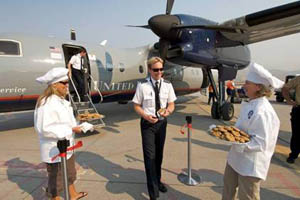 Cookies were handed out to surprised passengers aboard the first flight back into the new and improved Eagle County Regional Airport earlier this week after a summer-long closure to lengthen the runway. The longer runway will allow for planes with more passengers in the summer and perhaps more international flights in the winter.
Blog Tools
Comments
PermaLink
I-70 rail would cost $15 billion, but is there a cheaper alternative between Leadville, Eagle?
By David O. Williams
September 4, 2009 — Even before it issues its final report later this month, the Rocky Mountain Rail Authority is generating plenty of buzz for its $15 billion cost estimate for passenger rail along the Interstate 70 corridor between Denver and Vail.

An Associated Press story on the Denver Post site Tuesday, which also put the cost of high-speed rail between Pueblo and Fort Collins at $5 billion, was met with dozens of comments ranging from "build it, build it now" to "let the ski industry pay for mountain rail" and "don't bring your big-city crime to Fort Collins."

Fact is, the $20 billion combined cost estimate came out last week (AP finally noticed it in a Summit Daily News story Tuesday) when I-70 coalition chairman and Frisco town manager Michael Penny wrote a column basically saying any rail fix for congestion on I-70 is many years (and many billions of dollars) away from becoming a reality.

The Rocky Mountain Rail Authority, an intergovernmental advisory group much like the I-70 Coalition, has been conducting a $1.5 million Colorado Department of Transportation study on the feasibility of passenger rail along the I-70 and I-25 corridors.

Meanwhile, several states, including Colorado, have also applied to the Federal Railroad Administration to get funding for a passenger rail line between El Paso, Texas, and Denver. Funding for any of this, according to the latest round of stories, would mostly have to come from the feds.

But a slew of experts have said that's unlikely given the relatively low priority of a Desert Southwest or Central Rockies rail corridor compared to the kind of highway congestion seen on both coasts or in the upper Midwest. And federal stimulus funds for transit projects mostly went to short-term jobs creation in the form of badly needed highway upgrades.

Still, the possibility of both I-70 and I-25 passenger-rail routes remains intriguing not only to rail enthusiasts but also Colorado's business community, which in some cases sees a mountain rail system as a major competitive advantage in marketing the state's $10 billion ski and outdoor recreation industries. Dreams of a European-style network of ski trains have been percolating for years.

Problem is, the only ski train in the state – the one between Denver and Winter Park owned by billionaire Phil Anschutz – is shutting down after 69 years this season (although there's talk of a revival) and was too slow to really be much more than a novelty for people in a hurry to get to the slopes.

Don't look for cash-strapped ski companies to get into the mass transit business anytime soon. In fact, Vail Resorts owns Colorado Mountain Express – a van service to Denver International Airport that would directly compete with mountain rail.

Realists in mountain communities say a much more likely scenario than Denver to the Eagle County Regional Airport (the actual line studied by the Fail Authority) is an Eagle to Leadville route along existing rails, with stops at the base of Beaver Creek and a spur to Vail.

While that wouldn't do much for communities like Idaho Springs and Georgetown frustrated by brutal weekend traffic on I-70, it would be far cheaper and much closer to reality. The Eagle Airport, where millions have been spent on runway expansion and a new radar system in recent years, claims to be the second busiest airport after DIA during winter months, if you include private jet traffic.

Planes as large as Boeing 757s fly directly from cities like Los Angeles, Dallas and New York, and skiers then take vans to Vail and even Aspen. So weekend warriors from Denver would still be caught in god-awful ski traffic, but international and out-of-state tourists could bypass the whole mess (and down-valley workers and Leadville residents could leave their cars at home).

The only problem with that scenario is that Union Pacific hasn't abandoned its rail line through Eagle County, merely making it dormant for the past decade and reserving the right to start rolling coal trains through the area in the future. And passenger and freight trains don't work all that well together on the same tracks.

Still, statewide passenger rail could get a boost from the creation by the State Legislature last session of the Colorado Department of Transportation's new division of transit and rail. But where any new lines would go – or who will foot the bill – largely remains a guessing game.

2 Comments on "I-70 rail would cost $15 billion, but is there a cheaper alternative between Leadville, Eagle?"