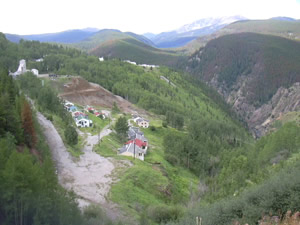 The old mining town of Gilman sits in the proposed Battle Mountain project, which officially changed hands Wednesday.
By Tom Boyd
Blog Tools
Comments
PermaLink
Ginn-turn becomes Crave-turn as Ginn Company turns Battle Mountain reins over to Crave Real Estate
By David O. Williams
September 10, 2009 — A Florida developer looking to build a massive private ski and golf resort off the back side of Vail Mountain near Minturn has officially bowed out of the proposed Battle Mountain project, adding a new chapter to the twisted and contentious history of the nearly 5,000-acre property.

Bobby Ginn, whose Ginn Company has developed golf and beach resorts across the Southeast, overwhelmingly won a Minturn annexation vote in May of 2008 – promising around $180 million in badly needed infrastructure funding for the struggling former mining and railroad town.

But the global recession and concurrent real estate collapse sent some of his Florida resorts into bankruptcy protection and stalled any progress on the Battle Mountain project, which would have included an 18-hole golf course, a ski area with a gondola, and 1,700 homes. The project is also tied up with litigation over land ownership and water rights.

Crave Real Estate, which is partly owned by Ginn Company backer Lubert Adler – a Philadelphia real estate investment firm – is taking over the Battle Mountain project, which will proceed more or less as planned, according to Crave's David Kleinkopf.

"While there may be some challenges on the horizon, Crave Real Estate and this project's financial partners are 100 percent committed to this project and its long-term viability," Kleinkopf wrote in a letter to the town Wednesday.

The Vail Daily first broke the story on its website Wednesday, with the Denver Post following suit, but last month RealVail.com reported Ginn was talking to other developers, seeking partners such as local golf resort developer Cordillera. Cordillera had sent a letter to homeowners in July saying it was in talks to take over the project and rename it Cordillera Mountain. Lubert Adler also is an investor in Cordillera.

Minturn activist Frank Lorenti, who forced a vote on the project last year, has said the town should renegotiate the annexation deal with Minturn to get more benefits up front. He also said it may have to go back to a public vote. Minturn Mayor Gordon "Hawkeye" Flaherty said the deal stands, even with a new developer.

Several experts told the Daily the proposed project will have to be changed to accommodate today's radically different real estate market. It seems like it will be several years before the extravagance of a private ski resort will be en vogue again -- if ever. Just look at the struggles of the bankrupt Yellowstone Club in Montana.

This may be an ideal time for Minturn to negotiate a better deal that more realistically fits the current economic realities and perhaps preserves more of the parcel as open space. It is, after all, critical wildlife habitat between the Eagle's Nest and Holy Cross Wilderness Areas.

Comment on "Ginn-turn becomes Crave-turn as Ginn Company turns Battle Mountain reins over to Crave Real Estate" using the form below