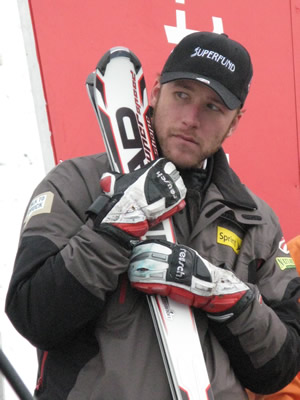 Bode Miller at Beaver Creek in 2007. Catch him here again in December before he goes for his first Olympic gold medal later in the season at the 2010 Winter Olympics in Vancouver.
Blog Tools
Comments
PermaLink
Chicago's loss won't be Colorado's Olympic gain, but December's Miller time at Beaver Creek
By David O. Williams
October 5, 2009 — Not even Barack Obama could clear the hurdles of eight lingering years of anti-Americanism among even our closest allies and land the United States on the podium of finalists for the 2016 Summer Olympics in Chicago. Fourth place is the worst place to be in Olympic competition.

And while it's great to see Rio grab the gold for South America for the first time – especially given the off-the-hook party the Brazilians will no doubt make the Games – it's disappointing from a Colorado perspective that the United States Olympic Committee is apparently unable to walk and chew gum at the same time.

It became pretty clear several months ago that win or lose in Chicago the USOC would not put together a bid for the 2018 Winter Olympics because the deadline was only a couple of weeks after the 2016 vote. This despite more than a year of clear political will and support from the Colorado business community for a 2018 Denver bid. After last week's disappointing vote, the USOC reiterated there will be no 2018 bid.

That's too bad because Colorado, with Vail as an alpine ski-racing centerpiece, could have put together a hell of a bid for 2018 that would have drawn a lot of sympathy votes after the shelling Chicago took last week.

I was personally envisioning Ski and Snowboard Club Vail's own Lindsey Vonn going out in a blaze of glory, retiring after winning another gold on a new Birds of Prey women's downhill course at Beaver Creek, with spectators arriving via our new bullet train between the Eagle County Regional Airport, Vail and Aspen.

It could have been good, but now the Winter Games back in the U.S. may take till 2022 or longer – the next realistic shot for a U.S. Olympic bid. And there is, of course, no guarantee for Colorado, especially since Denver is the only host city to ever be awarded the Games (in 1976) and then reject them because of anti-tax vote spearheaded by former Gov. Dick Lamm.

The resort sprawl he feared at the time came anyway. Now the Olympics could be a way to accelerate the infrastructure (roads and mass transit) needed to better accommodate the last three decades of resort development in the Colorado Rockies.

In the meantime, we'll get a chance to enjoy the Games in a much more reasonable time zone next year in British Columbia, with Vonn – now a Vail Resorts-sponsored star – going for her first Olympic gold.

And making things much more interesting with his return to the U.S. Ski Team late last month will be arguably the best ski racer in U.S. history, Bode Miller. Admitting he lacks the conditioning to compete in the first World Cup in Soelden, Austria, later this month, Miller says he'll target the North American swing of the White Circus for his real comeback.

That means he should be in rare form by the Birds of Prey World Cup downhill, super-combined and slalom Dec. 4-6 at Beaver Creek – a venue where he's enjoyed great success. If you can't make it to Vancouver in February, be sure to at least get a sneak preview in Beaver Creek.


Comment on "Chicago's loss won't be Colorado's Olympic gain, but December's Miller time at Beaver Creek" using the form below