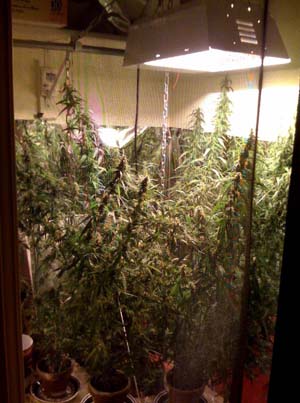 Don't look for legal scenes like these in Vail any time soon -- at least until a new town council in seated.
Blog Tools
Comments
PermaLink
Vail council upholds wholesome image of 'premier mountain resort' by snuffing pot clinics
By David O. Williams
October 26, 2009 — Vail police last week successfully lobbied the town council to temporarily ban medical marijuana dispensaries, essentially passing the bud to the next council to be seated after the Nov. 3 election.

According to the Vail Daily, police chief Dwight Henninger said 40 years of being the "premier mountain resort community" would go up in smoke if the council took the recommendation of the town staff and the Planning and Environmental Commission and allowed dispensaries in commercial areas away from high-traffic tourism zones.

Town councilman Farrow Hitt said the impressionable youth of Vail are already conflicted enough when it comes to partying because they see adults on vacation going off on a regular basis. Apparently, seeing people with debilitating diseases ease their suffering with the same reckless abandon would be confusing.

Of course, the nearby "premier mountain resort communities" of Avon and Edwards have allowed dispensaries, so spliff relief will only be a 10- or 15-minute drive west on I-70. And for those ski vacationers who base their travel decisions on such things, Vail rival Aspen and much of surrounding Pitkin County have also allowed dispensaries.

It's possible, though, that Vail Police Chief Henninger was just trying to avoid the regulatory mess faced by Summit County Sheriff John Minor, who has seen seven out of 10 warrants served for grow operations in the past six months turn out to be for legal agricultural endeavors.

Minor told the Summit Daily News the state doesn't notify local law enforcement of who's legal, requiring cops to serve warrants and then sort through paper work. That's meant some embarrassing situations for police, including one incident in which the cops confiscated pot plants and lovingly watered them at the station to keep them alive until the grower's legal status could be confirmed. Failing to do so could have meant a hefty lawsuit, with plants valued at $5,000 a pop.

State Rep. Christine Scanlan, D-Dillon, said she sympathizes with the sheriff but doubt the state legislature will tackle the problem and pass a bill mandating better state regulation, largely because of the down economy and lack of funds for such a bureaucracy. Minor said he doubts there's political will in an election year.

"I don't even know if (the legislature) will touch this in 2010 simply because it's an election year, and politics has a strange way" of affecting such matters, he told the paper.

Comment on "Vail council upholds wholesome image of 'premier mountain resort' by snuffing pot clinics" using the form below