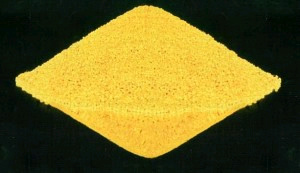 Yellowcake uranium may dramatically change the face of Colorado's Western Slope in the coming years.
Courtesy of U.S. Department of Energy
Blog Tools
Comments
PermaLink
Nuclear-power revival pits Udall against renewable energy, environmental advocates
By David O. Williams
October 29, 2009 — Colorado U.S. Sen. Mark Udall Wednesday took his boldest step yet on the road to a national nuclear renaissance as part of a program designed to combat global warming. He introduced the Nuclear Energy Research Initiative Improvement Act of 2009 in a lengthy speech on the Senate floor in which he acknowledged he was likely stepping on an environmental landmine.

"For some, news that a Udall is speaking favorably about nuclear power will come as a stark – and perhaps unpleasant – surprise. But I also believe public and expert opinion on the risks and benefits of nuclear power has changed," Udall said, referencing the 1979 Three Mile Island power plant meltdown and the industry's struggle to improve its public image in the ensuing three decades.

"Looking beyond environmental concerns, and as we face perhaps our greatest economic crisis since the Great Depression, we also need an 'all of the above' solution to jump-start our economy. That means continuing our development of renewable energy sources such as wind, solar and biomass, as well as traditional energy resources like coal, oil and cleaner fuels like natural gas," said Udall, a member of the Senate Energy and Natural Resources Committee.

The Senate bill, co-sponsored by Energy and Natural Resources Committee Chairman Sen. Jeff Bingaman, D-N.M., and Sen. Lisa Murkowski, R-Alaska, would clear the way for the U.S. Department of Energy to engage in research into modular and small-scale nuclear reactors, cost-efficient manufacturing for nuclear power facilities and enhanced proliferation controls.


Colorado in crosshairs of looming nuclear-power boom
Colorado, historically a major uranium-producing state, will be ground zero of the nation's nuclear revival if that form of power enjoys the renaissance proponents say is necessary for climate change legislation to win approval in the U.S. Senate.

Key Republicans like Arizona's John McCain, whose state is also a hotbed of uranium mining, and South Carolina's Lindsey Graham are big backers of a nuclear-energy revival suddenly popular in some circles for its promise of nearly carbon-free power. Their votes may be needed to give Democratic co-sponsors Barbara Boxer of California and John Kerry of Massachusetts 60 filibuster-proof votes.

As the Senate this week commences three critical committee hearings on the Boxer-Kerry bill, Colorado's Mark Udall has repeatedly made it clear nuclear needs to be a bigger part of the nation's electrical-power mix, although he acknowledges uranium mining needs to be done much more safely than it was in the state's not-too-distant past.

"You can't consider expanding nuclear power without uranium mining, but that does not mean supporting irresponsible mining," Udall told The Colorado Independent in an earlier statement. "It's important that the state — which is the delegated agency for permitting authority for uranium mining — ensures that uranium mining is done safely, responsibly and with the full input of the affected communities."

The Montrose County commissioners late last month approved a controversial uranium mill proposal for the far western end of the county, and the state will now take up to a year to issue its own permits. Some residents of the area that produced yellowcake for the first atomic bombs view a nuclear energy revival as the likely salvation of the local economy; others see it as another looming environmental disaster. Yellowcake is used to produce nuclear fuel rods.

Frank Filas, environmental manager for a U.S. subsidiary of Ontario-based Energy Fuels Inc., which proposed the Montrose County mill, said he understands the public trepidation given the industry's checkered past.

"If you go back to the '40s and '50s and you look at our industry, well, we were doing a lot of things that weren't necessarily best for our people, but we didn't know any better — very similar to all the other industries at that time," Filas said. "And when you had scares like Three Mile Island, and obviously Chernobyl was a horrible disaster, people see that and basically they wanted a safe supply."

Those nuclear reactor meltdowns and explosions in the 1970s and 1980s put a halt to the expansion of the industry in the United States, basically leveling off nuclear power's share of the nation's electricity base load at about 20 percent.

According to The Associated Press, 104 reactors in 31 states currently provide that 20 percent of the nation's electricity — amounting to about 70 percent of the nearly carbon-free power that doesn't contribute to global warming. The goal of climate change legislation is to cut greenhouse gas emissions 80 percent by the year 2050, which would require, according to an EPA report, 180 new reactors.

The Nuclear Regulatory Commission is reviewing applications for only 30 new reactors, but 85 percent of the uranium used for nuclear power production in the United States is currently imported from abroad, according to the Department of Energy's Energy Information Administration.

That agency recently reported that so far in 2009 coal-fired plants contributed 44.7 percent of the nation's electrical power; natural gas-fired power plants 22.3 percent; nuclear 20.6 percent; hydroelectric 7.4 percent; other renewables combined (biomass, wind, solar, geothermal) 3.7 percent; and petroleum-fired power plants 1.1 percent.

Coal belches by far the most carbon of all of those sources, and some say the duration of the nation's coal supply is rapidly waning. Udall is also big backer of upping incentives for the natural gas industry in the Boxer-Kerry bill given Colorado's abundance of gas, and that's a sentiment Gov. Bill Ritter shares.

But Ritter also told The Denver Post he backs nuclear power and expanding uranium mining and milling, as long as modern technology ensures safe production: "Today's standards for a new mill … are far, far more protective of health and the environment. We believe it is possible to construct a mill today that fully protects workers as well as the air and water."

Energy Fuels' Filas said nuclear wouldn't even be on the radar right now if not for the global climate change debate.

"Let's face it, if we weren't worried about carbon dioxide right now and the burning of fossil fuels [nuclear wouldn't be expanding]," he said. "Fossil fuels, whether it's coal or natural gas or oil, are all very inexpensive forms of power. They're a little less expensive than nuclear and obviously less expensive than renewables, so from a supply and demand point of view, those types of power sources made more sense over the last 30 years."

But the potential public health risks of uranium mining are still far too high for some critics of the industry, including Keith Hay, energy advocate for Denver-based Environment Colorado. Hay disputes the notion that nuclear should be grouped in with other forms of clean energy: "Anyone who has seen the front end of uranium mining for nuclear knows that it is in no way clean."

Travis Stills, managing attorney for the Durango-based Energy Minerals Law Center, says the environmental legacy at Uravan — a toxic ghost town cleaned up at taxpayer's expense — mandates any new milling operation in the area must be required to post an enormous bond in the event the company goes out of business but leaves behind a radioactive mess.

"The starting point for any launch should be the amount of cleanup that was actually spent at Uravan. That should be the absolute floor [for a bond], and then we should start talking about what to do from there," Stills said, adding the county commissioners seemed to have their minds made up long before the approval process began.

"[County commission chairman] David White attempted to run the best process that he could, but they fell way short of providing anything fair and balanced – maybe they did provide fair and balanced the way that means now – but they certainly didn't provide anyone with the hours of PowerPoint presentation opportunity that they provided to Energy Fuels. [The mill] was a done deal when they met privately March 25, 2008, and it sort of remained that way all the way through."

The bill is largely viewed as an olive branch to key Republicans who insist nuclear power, a nearly carbon-free source of energy, must play a bigger role in the pending Boxer-Kerry climate change bill, which would set a cap on carbon emissions and penalize the nation's largest polluters.

"The scale of the energy changes we must make dictates that we be open to the widest variety of energy options, particularly those with domestic potential and those with cleaner emissions," Udall said, repeating a favorite phrase. "In other words, there is no silver bullet that can solve all of our energy challenges; we are going to need silver buckshot."

Keith Hay, energy advocate for Denver-based Environment Colorado, said Udall's own state would bear the environmental brunt of a revival of the nation's nuclear power industry, which currently accounts for a about 20 percent of the nation's electrical power, although no new nuclear plants have come online since the Three Mile Island disaster.

"We don't think that renewable energy is a silver bullet; we just think that there are some things that shouldn't be part of the buckshot going forward, and nuclear [power] certainly shouldn't be part of that buck shot," Hay said. "We certainly agree with Sen. Udall that climate change is important and a pressing need, but we clearly disagree with Sen. Udall on the path forward."


Udall talked about bringing several new reactors online in the coming decade in order to work out the costs associated with nuclear power, which he admitted are relatively unknown given the dormancy of the industry over the past 30 years.

"Environment Colorado believes, and the numbers show, that what we need to do is efficiency first, clean energy second and then there may be other solutions," Hay said. "But to move nuclear to the head of the line when it's one of the most costly solutions that we have is just not the right step."

Udall acknowledged that the National Academy of Sciences puts the cost of electricity from new nuclear plants at between 8 to 13 cents per kilowatt-hour, a big range given the average national price of electricity from all types of energy was 10.42 cents in July of 2009, according to the DOE's Energy Information Administration.

"The first wave of nuclear power plants will go a long way towards telling us whether new plants can be built on budget and on schedule in the United States," Udall said. "I hope the answers are 'yes' and 'yes,' and that the final cost of electricity is at the lower end of the uncertainty range. I say this because – if nuclear energy is to survive as a viable option – it will need to compete against other low-carbon technologies in the long run."

Hay said nuclear plants have a track record of coming online behind schedule and way over budget.

"The road going forward is a renewable energy road and it doesn't make sense to start building new nuclear plants on the hope that they'll come in on time and under budget," Hay said. "We just don't think that investing in nuclear power and putting the taxpayers on the hook for that bill is a responsible and sensible solution to meeting our energy needs or combating global warming. It just doesn't do either of those things as well as the other alternatives that we have."

One of Hay's biggest concerns is what a nuclear power revival will mean for Colorado, one of the West's leading uranium producers in the past but a state with a legacy of mining pollution.

"Colorado is on the front end of any nuclear renaissance, and in fact we're on the dirty front end of any nuclear renaissance," Hay said. "So to say nuclear is a clean energy solution ignores the impacts that people in the state are going to feel from increased uranium mining, from impacts to their water to all of the other impacts that go with the mining industry."

Udall has in the past said new technology and better practices will alleviate a lot of the problems associated with uranium in the past, but that state regulators will need to closely monitor a resurgent Colorado uranium industry.

1 Comment on "Nuclear-power revival pits Udall against renewable energy, environmental advocates"