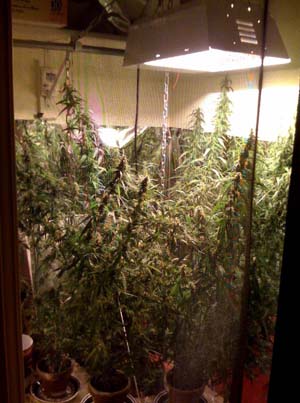 OK, this much weed will still get you busted in Breck, unless you have a license to dispense for medical purposes.
Blog Tools
Comments
PermaLink
Smoking dope on the Western Slope: Breck steps in it again; guv hopefuls laud industrialization
By David O. Williams
November 5, 2009 — Remember this infamous 2002 Breckenridge ad campaign? "The hill may dominate you. But the town will still be your bitch."

The ads ran in youth ski pubs and were eventually pulled after reams of stories provided free advertising about the advertising. The point, of course, was that the mountain would own you but you'd own the town later that night.

Now you may be too stoned to own the town, no matter how good the nightlife is, and that's reportedly garnered an equal amount of negative pub from around the globe.

Voters in Breckenridge Tuesday overwhelmingly backed the decriminalization of small amounts of marijuana and paraphernalia, while in the counties surrounding Vail and Aspen, voters approved a different kind of green by OKing special-improvement districts for green-energy projects on homes and businesses.

The Breck vote (71 percent favored the measure) was largely symbolic since possession of up to an ounce of pot by people 21 and older is still illegal under state law (unless they have a medical marijuana card), but Breckenridge Police Chief Rick Holman told the Summit Daily News his department doesn't spend a lot of time busting people with small amounts of weed anyway.

In Eagle County – home to Vail and Beaver Creek ski areas — voters by a 53 to 47 percent margin approved a program that would allow homeowners to make energy-efficiency improvement by borrowing against a special assessment on their property taxes that would then stay with the home even if it's sold.

A similar program won approval by a much wider margin in the even more liberal environs of Pitkin County, home to the Aspen ski areas. Voters there approved the measure by a 73 to 27-percent margin. Both programs will likely be modeled after a Boulder County program in place for more than a year.

Meanwhile, the candidates for Colorado governor got an early jump on the 2010 race last week, with at least a couple of them demonstrating they may be smoking just as much dope as the good folks in Breck.

Former U.S. Rep. Scott McInnis, a six-time Republican congressman representing Colorado's Western Slope, would like to turn the state's prime mountain playgrounds into something more closely resembling the industrialized environs of Pennsylvania.

At least that's our interpretation of a Grand Junction Daily Sentinel story in which McInnis praises the "drill, baby, drill" policies of Democratic Pennsylvania Gov. Ed Rendell, who refused to impose a new tax on natural gas as his state quickly became a drilling hot spot.

McInnis, who's trying to become the Republican nominee to take on Democratic Gov. Bill Ritter in the 2010 election, told the paper "we've got to do something to match" Pennsylvania and other states. The former Glenwood Springs cop turned oil and gas attorney long ago moved out of the gas patch in Garfield County and now splits time between Denver and Mesa County.

He has been steadily pounding on Ritter's more environmentally restrictive drilling regulations, decrying policies meant to protect air and water quality, wildlife habitat and mountain vistas that make Colorado unique from places like … well, Pennsylvania.

The rush to tap into the gas-rich Marcellus Shale in the Keystone State has led to wholesale contamination of drinking water supplies by hydraulic fracturing of gas wells, according to state environmental officials, who continue to make new and increasingly unpleasant discoveries about the types of chemicals used in hydraulic fracturing, or fracking.

For instance, according to ProPublica, Pennsylvania environmental officials believe the Monongahela River, which supplies drinking water to 350,000 people, may have been poisoned by chemically tainted wastewater generated by the natural gas industry.

Now New York state environmental officials are digging a little deeper into the number and types of chemicals used in fracking, which Colorado lawmakers would like to see regulated more closely by the federal government. A new study reveals 260 chemicals are being used in fracking fluids – eight times as many as Pennsylvania officials listed.

The trend is toward more regulation of an industry that is increasingly running afoul of core Colorado values like untrammeled open space, clean water and healthy habitat – both for wildlife and humans. From Silt to Walsenburg and surrounding Huerfano County, exploding drinking water wells and flammable tap water are becoming much more than mere oddities.

Even in traditional oil and gas happy places like Louisiana, regulators are calling for more oversight, with the Shreveport City Council recently voting to impose local regs.

McInnis and his former congressional staffer, GOP state senate minority leader Josh Penry, who's also seeking the Republican nod to run for guv, represent a clear choice for Colorado voters next year: a return to the gas boom days of former oil and gas lobbyist Gov. Bill Owens versus the more cautious approach of Ritter and state Dems.

Think about that next time you're stuck in a cubicle in an office park on the Front Range, wistfully contemplating a trip to your favorite mountain escape on the Western Slope.

Comment on "Smoking dope on the Western Slope: Breck steps in it again; guv hopefuls laud industrialization" using the form below