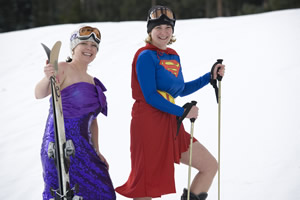 Keystone played a Halloween trick on Copper Mountain by moving its opening up a week, and snow riders statewide will get a treat with two resorts coming online the same day on Friday, Nov. 2.
Photo courtesy of Keystone Resort
Blog Tools
Comments
PermaLink
Keystone cuts in line, joins Copper in opening Friday
By David O. Williams
October 31, 2007 — The following blog is about newness. So excuse me if any part of it seems stale.


First up, as of Friday the number of ski resorts open statewide doubles to four. Keystone, originally set to open Nov. 9, jumped in line to join Copper Mountain in opening Friday, Nov. 2.


However, Wolf Creek, also set to open Nov. 2, is jumping out of line due to a lack of southern snow, opening only its beginner lift Saturday, Nov. 3.


Keystone, the first Vail Resorts mountain to come online, opens at 9 a.m. Friday with access via the River Run Gondola and the Summit Express lift. The mid-mountain Montezuma Express lift and Kokomo magic carpet will also be running.


Despite two feet of snow this month mid-mountain, itís still early season, so Keystone snow riders will have to download the gondola at the end of the day, which will cost $59 for adults. The A51 terrain park will offer the largest jibbing area in the country with 20 rails, boxes, walls and other features.


Rooms at the Inn at Keystone are going for $89 a night Nov. 1-7. Call (800) 468-5004 or visit http://keystoneresort.com for more details.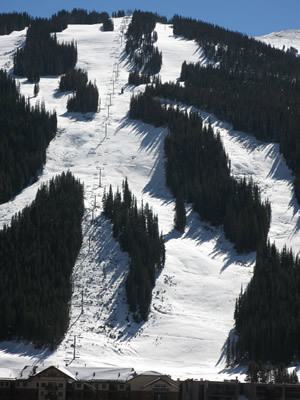 Copper Mountain serves up top-to-bottom skiing and 2,600 vertical feet of turns when it opens for the season Friday, Nov. 2.

While Keystone was perhaps hoping to steal a bit of Summit County rival Copper Mountainís opening-day thunder, Copper may be a bit better bet as far as available terrain.


A cold front did bring rain in the valley floors and snow up high Tuesday night into Wednesday, but it wasnít much. Copper appears to have better top-to-bottom coverage, but Iíll be able to tell for sure after I ski both on Friday.


What I do know is Copper is offering top-to-bottom skiing with five lifts and 2,600 vertical feet for an unspecified price at 9 a.m., Friday. I called Wednesday at 3 p.m. and they hadnít released the price. Go to http://www.coppercolorado.com/todo/events/2007-11/lift_off.htm for more info.


As for new things in the works at Vail, which opens Friday, Nov. 16, check out my story on the resortís recently approved master plan in the Real Biz section under http://www.realvail.com/sections.php?catid=5.


And a final note on the Colorado professional sports scene. Final because I donít want you to think this is a sports blog, which it is not, or that Iím a relentless homer, which I am.


It was a crushingly disappointing weekend to be a fan of the Rockies (swept in four games in the World Series by the Sawx) and the Broncos (beat by a Brett Favre bomb in overtime on Monday Night Football), but the promise of so many good young athletes coming into their own in Denver was the overriding theme for me.


Jay Cutler shows the poise of a young John Elway, and Matt Holliday and crew will be around for years if ownership steps up. They may be losing big games now but that experience will pay off big-time three, five or even 10 years from now. New beginnings, indeed.


Speaking of newness, at least three new Vail Town Council members will step into the fray Nov. 6, and possibly as many as five, signaling a new beginning for Vail as it grapples with staying a community and not surrendering entirely to resort status.


All the candidates seem to want more workers and middle-class families in town, and I think theyíre all on the right track, because a ski town without people living in it is simply not a town, and I contend even visitors want actual locals to rub elbows with.


Letís hear it for all things new and beautiful Ė like the 07-08 ski season. Itís on!


Comment on "Keystone cuts in line, joins Copper in opening Friday" using the form below