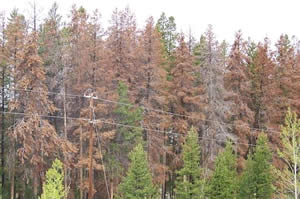 Beetle-kill pine trees in Colorado's high country pose a major threat to the nation's power grid, experts say.
Courtesy of U.S. Rep. John Salazar
Blog Tools
Comments
PermaLink
Beetle-kill epidemic could knock out power grid in Colorado, western U.S.
By David O. Williams
November 11, 2009 — One of the least-publicized aspect of the mountain pine bark beetle epidemic, which has decimated nearly 2 million acres of trees in Colorado, is the threat it poses to the region's power grid. Whole mountainsides of dead and toppling trees throughout the state raise the specter of disaster on the scale of the great Northeast Blackout of 2003.

The largest power outage in North American history left more than 50 million people in the Midwest and Northeastern United States, as well as parts of Canada, without electricity for up to two days beginning on Aug. 14, 2003. It's estimated the blackout cost up to $6 billion and at least 11 lives.

And it all started with untrimmed trees coming into contact with a power line in rural Ohio.

Conditions are more than ripe for a repeat in Colorado, where officials say hundreds of miles of major transmission and distribution lines crisscross devastated national forest land on their way to supplying the power needs of Front Range communities.

"Most of the major transmission lines for the Front Range cross the Continental Divide," said Cal Wettstein, commander of the U.S. Forest Service's Bark Beetle Incident Management Team. "There are three or four big, main lines and the majority of them go through some kind of beetle kill, so that's the big concern."

A fire the size of the 2002 Hayman blaze — the largest in Colorado history at about 138,000 acres — could take out a number of key transmission or distribution lines. Or a beetle-killed tree could easily topple onto a line, causing it to either arc and set fire to the surrounding forest or set off a domino effect that would overload line after line, which is what happened with the Northeast Blackout.

"There are a number of concerns, but the first one is the trees contacting the lines and actually knocking out the grid. Then there's the fire aspect," Wettstein said. "And fire going both ways — starting from a power line and then the effects on the power lines of a wildfire that starts somewhere else."

The Forest Service just finished taking public comment on its Emergency Power Line Clearing Project, which would allow up to 15 different utilities and power companies to clear trees from swaths of national forest land surrounding 625 miles of power lines (.pdf) on the White River, Roosevelt and Medicine Bow-Routt national forests.

Wettstein said the Forest Service is allowed to expedite the decision-making process under the Healthy Forests Restoration Act of 2003, and that utilities are compelled to pay for and undertake clearing of hazard trees under the Energy Policy Act of 2005. That legislation was in direct response to the Northeast Blackout.

The Forest Service hopes to wrap up the National Environmental Policy Act process on the project by January so utilities can start clearing next summer.

But there are some critics of the proposal. Wettstein said the two biggest concerns coming out of the public scoping process were the width of the treatment areas (up to 400 feet for major lines) and the impacts on roadless areas (75 of the 625 miles are in designated roadless areas).

If it's not economically viable to remove downed timber, power companies can simply masticate (cut up into small amounts) trees and spread them across the forest floor so they're no longer a threat to the lines and present less of a fire hazard.

Such an approach wastes a valuable forest product, some experts say, and fails to recognize the potentially harmful carbon-dioxide emissions from rotting trees, as well as the CO2 potential form forest fires.

Phil Kastelic, CEO of Colorado Forest and Energy, a company that distributes portable bio-energy machines that produce virtually carbon neutral power and heat by gasifying chipped wood, says Littleton-based Community Power Corporation's BioMax systems should be part of the plan.

"Our BioMax technology could be installed in local communities close to power line clearing efforts or installed along the transmission and distribution lines plugging in parallel directly into the grid," Kastelic wrote in a comment letter to the Forest Service. "This transforms a dangerous and expensive problem into a leading renewable story, highlighting Colorado technology."

Kastelic suggests certain incentives be included in the plan to discourage utilities from leaving too much slash and too many fallen trees along the miles and miles of power lines. Renewable energy credits could be offered for the power that's produced, and utilities could set up community drop zones so wood could be collected, chipped and consumed in bio-power generators.

Large-scale, multi-megawatt biomass power plants are common in Europe where forest products are cultivated to provide a consistent fuel load, and similar facilities are operating in the United States or have been proposed in Colorado. But portable 50- and 100-kilowatt systems about the size of tractor trailers have yet to catch on commercially in Colorado despite the beetle-kill epidemic.

Democratic State Rep. Christine Scanlan of Dillon, whose legislative district includes beetle devastated Summit and Eagle counties, said she's talked to biomass companies, pellet producers for wood stoves and other forest product companies about getting a seat at the table. She said U.S. Sen. Mark Udall's proposed National Forest Insect and Disease Emergency Act of 2009 would recognize beetle-killed forest products as a renewable energy source that fits within the parameters of the Clean Air Act.

"I've talked to those folks [biomass proponents] a little bit, and I do think they need to be part of the equation, and if Udall gets through what he's proposing, then that opens the door. That could potentially incentivize new business opportunities, so that's why we need all of those voices to help us come up with a plan. Frankly, we need the forest products folks there, because this problem's too big for even the feds to handle in a really holistic way."

Scanlan said she's spoken about the problem with former Colorado Department of Natural Resources director Harris Sherman, who last month was confirmed by the U.S. Senate as the Department of Agriculture's undersecretary for natural resources and environment, which oversees the Forest Service. She plans to meet with him again in Washington in the coming weeks to push for a more comprehensive approach.

"The power lines are a huge issue, of course, with the grid, but there is another way to look at this," Scanlan said. "You can just clear that right of way 150 feet or you can apply fire science to it so that in some places it can be narrower and in some places it can be wider.

"I'm glad they're doing something, but doing a lawnmower strip maybe isn't the smartest thing we could do," she added. "The right-of-way clearing idea was based on flat-land transmission lines, so they don't really take into account dealing with the elevations and grades that we have in the mountains, so I think it calls for a different strategy."

But Wettstein said the proposal goes for maximum clearance (200 feet on either side of major transmission lines) in case that's what's needed in serious hazard areas. He doesn't really expect to see that much area cleared by the power companies.

"They will vary that width to what their local needs are, because the bottom line is it's going to be very expensive to do and they're not going to clear any more than they absolutely have to to get those lines protected," Wettstein said.

Comment on "Beetle-kill epidemic could knock out power grid in Colorado, western U.S." using the form below