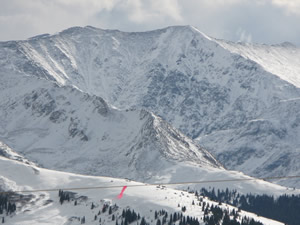 The mountains off the back of Copper are plenty white, but it's mostly a thin, early-season veneer. Still, skiing is skiing, especially with views like these.
Photo by David O. Williams
Blog Tools
Comments
PermaLink
Double your ski blogging pleasure: Copper, Keystone in the same day
By David O. Williams
November 3, 2007 — Pulling a double for me in the 80s used to mean to back-to-back shifts at Domino's, and in a sense, the double I pulled Friday – skiing Keystone and Copper Mountain in the same day – was a form of work. But only in a sense.


My intrepid RealVail partner and I (see adjacent Boyd's Blog on Keystone) set out to sample the latest entries in the early-season ski-resort derby in order to blog about their various merits. I drew the Copper assignment, and I have to say what I say every year at this time: "Not bad for the second day of November."


Whether or not resorts should push so hard to open so early, and whether the resulting product is worth $59 (the price for an adult lift ticket at both areas) is a debate for another day, but to me it always feels good to do some laps, even on mostly manmade snow.


The series of storms that kept passing through Eagle and Summit Counties in early to mid-October have somewhat dried up. There was a light dusting mid-week but Indian summer quickly settled back in and things have been more conducive to hiking and biking.


In other words, conditions are fairly typical for this time or year, so if you head up or out or over the Pass, bring your rocks skis, a sense of humor and an honest desire to simply tip it and rip it on boilerplate (with some soft patches here and there).

I would say that for anyone looking to just do laps and get their ski legs back under them, Copper gets the nod over Keystone. Because its base is about 500 feet higher (9,712 feet versus 9,280 at Keystone), Copper is offering top-to-bottom skiing on 2,600 vertical feet of trails.


At Copper, the American Eagle Lift is serving Rhapsody and Main Vein Trail, with the Excelerator Lift accessing Ptarmigan trail. Keystone, on the other hand, requires a download on the gondola to get back to the base, which violates my "death before download" mantra.


The better bargains, for sure, remain the two resorts open since October: Loveland ($42) and Arapahoe Basin ($45). But all things are relative, and all it takes is one big storm to open the terrain floodgates, so to speak.


Breckenridge officials, next up with a Nov. 9 opening, are probably doing some serious snow dancing right now.


Anyway, pulling a double back in the 80s in skiing terms always meant a double twister spread – ala my "Hotdog the Movie" days – but the contemporary version of poaching two resorts in one day works, too.


The tally so far for 07-08, if you're counting: three days, four different resorts, and not a bad turn yet.


Comment on "Double your ski blogging pleasure: Copper, Keystone in the same day" using the form below